How Harley Davidson Engines Work
Harley-Davidson is one of the world's most famous motorcycle manufacturers. Here we explore the key technology behind some of the company's latest models.
Harley-Davidson is a manufacturer synonymous with large-engine motorcycles and in 2013 is celebrating its 110th year. With their loud and distinctive two-cylinder engines, notable designs and onus on customization, however, they are arguably viewed as a type of motorcycle in their own right, with the company carving out its own unofficial category within the market.
The Harley-Davidson range has traditionally been based around two types of motorcycle: one with smaller engines (the small twins) and one with larger motors (the big twins). In recent years, a more modern 21st-century variant has also been introduced, with technology developed in association with the supercar manufacturer Porsche, however the core range is the traditional two-cylinder motorcycle. A Harley-Davidson bike contrasts starkly with your average sports bike. Dominated by Japanese brands such as Suzuki, Yamaha and Kawasaki, the sports bike is the antithesis of a Harley-Davidson – lightweight, compact and fitted with very highly tuned, extremely high-revving engines that produce incredible power outputs in relation to their size.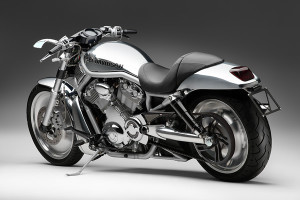 To compare, a Harley-Davidson 883cc (cubic centimeters) Evolution engine produces 41 kilowatts (55 horsepower) at 6,000 rpm (revolutions per minute) and 6.9 kilograms-force (50 pounds-force) of torque at 4,600 rpm. A 782cc Honda VFR800 of the same size, meanwhile, produces 80 kilowatts (107 horsepower) at 10,500 rpm and 8.1 kilograms-force (59 pounds-force) of torque at 8,750 rpm. This disparity is due to Harley-Davidson motorcycles being engineered to deliver easy-going – read: cruising at modest speeds – performance and lots of low-down torque.
Today, there are five basic model ranges of Harley-Davidson – four traditional ones and a new type that was introduced in 2001 which finally broke with the small twin/big twin tradition: the VRSC.
Mechanically, H-D bikes use large-diameter telescopic forks, rear coil over air suspension and a cradle-type single-spar frame, forming the backbone of the bike. The engine and components are mounted within the frame, and it also carries the pivot point for the steering head. Most Harley-Davidson motorcycles have a single-spar rear suspension whose pivot point is also mounted on the frame. Both the frame and the rear swingarm have been frequently redesigned over the years – the last time in 2009. This type of construction contrasts with the twin-spar frames used on sports bikes, which is stronger and able to withstand the higher forces such machines generate. They use the engine as a stressed member, acting as the main load-bearing component of the frame. This type of frame has been selected because it allows for far easier customization and leaves the engine exposed.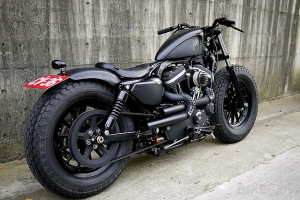 The longest-running Harley-Davidson range still in production is the FL Touring series, which has been built since 1941, with a basic frame design that's been used since 1980. These are retro-styled motorcycles defined by their large clear windscreen, front fairing and large rear saddlebags. They have in the past been known for usually having a Citizens' Band (CB) radio fitted. The engine is a Shovelhead motor that's rubber mounted in the frame in order to soak up vibrations. The 'Big Twin' model of engine is used in Touring motorcycles.
In contrast, the Harley-Davidson Sportster range is – as its name would suggest – a smaller, lighter and more sporty alternative to the FL Touring series. They are fitted with the rubber-mounted, fuel-injected Evolution (Evo) engine, of 883CC or i,200cc capacity; designated XL, this means there's a range of XL883 and XL1200 models. Further, the 1984-introduced Softail design has rear suspension (as opposed to 'hardtail' non-suspension bikes), but it is concealed, with the springs and dampers positioned along the axis of the bike frame. This maintains its distinctive retro look.
Not all Harley-Davidson designs are slaves to the past though. The modern VRSC range, introduced in 2001, is a very advanced design that is based around a new 60-degree V-Twin engine developed with Porsche. Dubbed the 'Revolution' motor, this is an overhead cam design, with liquid cooling for the first time on a Harley, and was originally launched in 1,130cc guise. It could rev to an unheard-of (for H-D) 9,000 rpm and produced 86 kilowatts (115 horsepower) at 8,250 rpm.
It was upgraded to 1,250cc in 2005, producing 92 kilowatts (123 horsepower), and there's now a long-stroke 1,300cc version, using a revised crankshaft, that produces 123 kilowatts (165 horsepower). These 21st-century Harley-Davidsons also contain other never-before-seen features such as hydroformed frame members and a fuel tank under the rider's seat.
Engine kits explained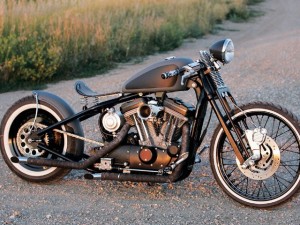 Timing chain drive – The large drive wheel is driven by the crankshaft and is connected to the smaller wheel via the timing chain – this sprocket drives a camshaft.
Oil pump – Legacy engines are available in this form albeit redesigned. Improvements include things such as higher-capacity oil pumps.
Cam and bore – Shortblock engine buyers can choose specific cam set and bore size for the performance they want.
Stamp – All shortblock engines are stamped with a new vehicle identification number (VIN) and also include a Manufacturer's Certificate of Origin (MCO).
Gaskets and seals – All the necessary gaskets and seals are included in the kits, along with the hardware required to install the engine into a bike.
Facts about Harley Davidson
Take two – The V-Twin engine was introduced in 1909, but it proved so troublesome that H-D later took it off the market to perfect the design. It was reintroduced in 1911.
45 degrees – Harley-Davidson has trademarked the 45-degree angle of its V-Twins. It is judged the best compromise between lots of torque and relative compactness.
Brand success – Harley-Davidson is now a world-famous brand with a cult following. Licensing the brand itself actually accounts for tens of millions of pounds in the company's overall revenue.
Easy Rider – A 1969 custom-built hardtail chopper was used in the popular Easy Rider film. Only the engine and the wheels were original Harley parts -the rest was tailor made.
Gone trucking – Ford introduced a special H-D ilteration of its F-150 SUV pickup truck in 2000. This has proven so popular that the Ford F-150 Harley-Davidson Edition is produced to this day.