Best Light Transport Vehicle of WW2 – Willys Jeep
The most iconic light transport vehicle of World War II, the Willys jeep was versatile, manoeuvrable and fast over uneven terrain.
The first and most distinctive jeep ever built, the Willys jeep was designed in 1940 as part of a competition to provide the US Army with a new light transport vehicle for the impending World War II. It dictated light transport vehicle design for decades to come, only being phased out in the late-Seventies. Light, adaptable and highly manoeuvrable, the Willys jeep in its various forms (MA, MB and post-war M38/M606) allowed allied forces to transport troops, munitions and injured soldiers to and from the front line quickly and efficiently.
Central to its effectiveness was its 1342.2-litre engine, capable of producing 60hp at 4,000rpm. This granted the lightweight Willys (1,040kg) a top speed of 45mph and earned the engine the nickname of "Go Devil' by allied troops. The engine was controlled by a Warner T-84J three-speed synchromesh transmission, which provided three forward gears and one in reverse in a four-wheel drive setup, allowing for the jeep to easily traverse road, desert, scrub and jungle terrain.
The engine was forward-mounted to a lightweight steel chassis. This featured a foldable windscreen, slatted iron grille (later additions a steel grated grille), and front frame cross-member for rigidity and damage mitigation. The chassis sat on top of a compact 80-inch wheelbase that was installed with leaf springs and shock absorbers (excellent for passage over bumpy ground), as well as fully hydraulic brakes on each of its four wheels (granting fantastic stopping power).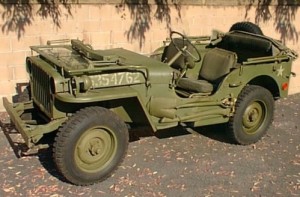 The Willys jeep was also prized for its high adaptability, with various different setups possible dependent on mission role. Troop transport maximized passenger space, with extra seats at the rear, while as a mobile medical centre the rear seats could be removed to make way for stretchers, medicines and operating equipment. The jeep could also be installed with various weapons platforms, including a rear-mounted 37mm cannon and array of Browning M1917 machine guns.
While the Willys jeep was subsequently upgraded post-war with a larger engine (the F4-134 Hurricane), more durable transmission (Warner T-90) and advanced instrumentation and electronics, it was eventually replaced in the late-Seventies and early-Eighties as larger, more armoured vehicles like the Humvee became the military's primary troop transporters.
Facts about Willys Jeep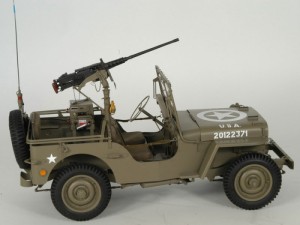 Grille – The first 25,000 MB Willys jeeps had a flat iron radiator grille. Subsequent jeeps were fitted with a now-famous slotted steel grille, due to its lower weight and cheaper cost.
Competition – The jeep was the product of a competition held by the US Army's Ordnance Technical Committee to design a Vn-ton 4×4 truck to replace its fleet of bikes and Ford Model Ts.
Popeye – The origins of the term 'jeep' is long-contested. One of the most interesting is that it was so-named by US soldiers after Popeye's jungle pet 'Eugene the Jeep'.
Reproduction – The Willys jeep is considered a collector's vehicle. In 2004 Chrysler – parent company of Willys – reproduced 1,000 Willys Special Edition Jeep Wranglers for sale.
Legacy – The compact military jeep continued to be used after WWII with the Willys jeep MB, as well as its successors the M38A1 and M422 used during the Korean and Vietnam wars.