How Do Boeing Laser Truck Work
Why has Boeing created a military vehicle with a giant laser cannon mounted on top?
The technology to create high-power lasers has been around for decades. It's only in the last 20 years, however, with the increasingly sophisticated use of computers on the battlefield and power-output efficiencies of lasers, that tactical use of lasers for defence has become practical.
Boeing has taken this a step further by strapping a ten-kilowatt solid-state laser to the roof of an eightwheeled, 370-kilowatt (500-horsepower), Oshkosh Heavy Expanded Mobility Tactical Truck that also houses the laser's power source.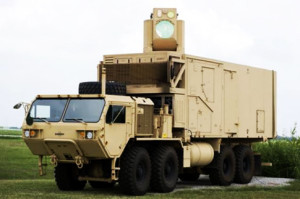 It's been called the High Energy Laser Technology Demonstrator (HEL TD), and it's capable of acquiring and tracking multiple projectiles as they move across the sky using a nearby radar station, then target them by focusing a beam of intense laser energy onto the projectile until it explodes, more cost effective than the previous deuterium fluoride laser versions (which cost several thousand dollars in fuel every time they were fired) and there's also plenty of scope to move up to even more powerful, 100-kilowatt lasers.