2013-2014 Chevrolet Spark Review
Chevrolet's latest model, the Chevrolet Spark, is a four-door subcom-pact hatchback that is smaller than even the diminutive Honda Fit. Starting at a mere USD 12,245, the Spark is relatively roomy for its size. And for the price, you get ten air bags and a six-month subscription to OnStar.
Our test car, with the 1LT trim and an automatic transmission, cost USD 15,420. It adds a seven-inch touch screen, Bluetooth connectivity, keyless entry, power locks and mirrors, cruise control, a free subscription to navigation services, and Chevrolet's MyLink infotainment system, which can connect to a compatible smart phone.
Driving impressions
Urban-ites will appreciate the Spark's tiny footprint and parking lot maneuverability, but a car this size comes with some typical budget-car trade-offs.
Road and engine noise are notable, especially when the tiny engine is pushed, which ends up being quite often. But considering the car's size, the ride isn't bad overall and it absorbs bumps pretty well.
While not sporty, the Spark handles responsively. On the highway, the ride is composed enough, but it can get quite stiff on broken pavement. Road and wind noise are quite prominent but not offensive.
Under the hood
Power comes from a hard-working 84-hp, 1.2-liter four-cylinder engine. Paired with the four-speed automatic transmission in our test car, the Spark delivers adequate acceleration around town, but hills pose a challenge. The transmission shifts smoothly enough, but it's constantly hunting for the right gear to compensate for the engine's limited power. So far, we've been seeing close to the EPA rating of 33 mpg overall as we pile on the break-in miles.
Inside the cabin
The Chevrolet Spark cockpit is economy-car basic, with a Spartan appearance but decent equipment levels. Six-foot drivers will find sufficient head and legroom. While adjustable for height, the steering wheel doesn't telescope in and out. The seats are narrow and become spongy on long drives. The snug cabin provides seating for four people, with a somewhat usable rear seat. If you need more cargo space, the 60/40-split rear bench folds down.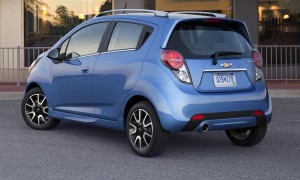 Our car has a number of features that are nice for the price, such as a trip computer, tachometer, and external temperature gauge. But the digital displays in the instrument cluster are small, and scrolling through them is cumbersome.
The Spark also has one of the most annoying and distracting audio-system interfaces we've experienced. It has no normal knobs, and navigating through the touch screen and flush buttons can be frustrating.
The Spark's small size makes it easy to park and maneuver, its tiny engine gets good gas mileage, and it has a great deal of space for its small footprint. But early impressions are that it may be too tiny and stripped down compared with the more substantial-and not much more expensive-Fit and Hyundai Accent.