Porsche Boxster Review 2013-2014
First introduced in 1997, the Boxster has long been a favorite at our test track, with its superb handling and excellent braking. With the model's first complete redesign, it gets shapely new sheet metal and rides on a slightly longer wheelbase and wider track, while remaining the same overall size.
The Boxster has retained its mid-engine layout, with the base powerplant being a 265-hp, 2.7-liter flat six-cylinder engine, paired with either a six-speed manual or seven-speed automated manual transmission.
Prices start at USD 49,500, and our base model with a manual transmission and a few options rang in at USD 59,600. If you want more grunt, you can opt for a 315-hp, 3.4-liter six, with prices starting at USD 64,100.
Driving impression
This Boxster retains the original's core qualities, making every break-in mile enjoyable for our testers.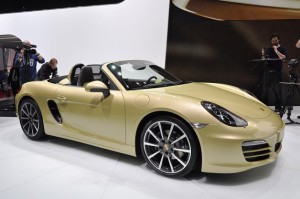 With virtually no body lean in corners and responsive, direct steering, the Boxster is a treat on a twisty road. Unfortunately, the switch from hydraulic to electric steering has meant the loss of some feedback compared with the last Boxster. The ride is very firm but not punishing, even with 20-inch wheels.
Under the hood
The base engine is not particularly brawny, but it revs freely, sounds great, and delivers immediate response.
The six-speed manual shifts easily, helped by a smoothly operating clutch. The automated manual transmission also works impressively.
Inside the cabin
The interior is beautifully finished with leather and brushed aluminum. The touch screen is easy to read and use. But the center console is cluttered with buttons, and the lack of steering-wheel-mounted audio controls is a obvious omission in a USD 60,000 car.
Two trunks add a measure of practicality, and the easy-to-use soft top can be raised or lowered at speeds up to 35 mph.
The Boxster is exceptionally fun to drive, with agile handling, ample thrust, and a nicely finished cabin. But at these prices it shouldn't be anything less.