Ford Focus Electric 2013 Review
This electric version of the Focus four-door hatchback joins the Coda, Honda Fit EV, Mitsubishi i-MiEV, Nissan Leaf, and Tesla Model S as the only dedicated all-electric cars on the market. We bought our Frosted Glass Metallic five-door in mid-July, and have been spending a lot of time on the road as our testers commute and live with the car.
Our USD 40,995 Focus includes the only available option-USD 995 for leather seats. Consumers are eligible for a USD 7,500 electric-vehicle tax credit.
Driving impressions: The Focus Electric drives a lot like the conventional version, only quicker and quieter. It rides comfortably and handles with agility.
The electric motor delivers 143 hp at peak and a strong 184 ft.-lbs. of torque from a standstill. Compared with the gas Focus, the car feels snappy-perhaps too much for maximum frugality. This combination of responsiveness, smoothness, and quietness delivers a distinct and effortless driving experience.
Under the hood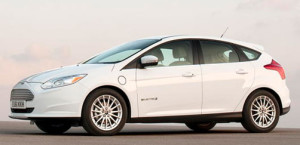 The Focus Electric is EPA-rated at the equivalent of 105 miles per gallon (MPGe). But so far, we've been doing even better, getting about 3.65 miles on every kilo-watt-hour of electricity, which is the equivalent of 123 mpg. This is excellent even for an EV. We've also been averaging 81 miles on a charge, which is about 6 miles longer than we got in our Nissan Leaf.
The 23-kWh lithium-ion battery pack has two parts: one located under the rear seat where the fuel tank would normally be, and the other occupying a fair amount of the cargo space.
The car uses a 6.6-kW onboard charger, and on average it has been taking us about four hours to charge the car on a 240-volt, Level 2 charger.
Inside the cabin
To help drivers get the most out of the car, Ford has put a lot into the electronic gauges and displays. Once you program a route in the standard navigation system, for example, it will calculate your trip buffer, letting you know how much extra energy you have to make a detour during your trip.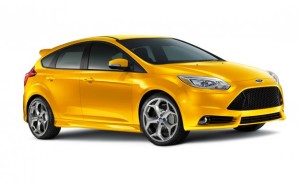 A regenerative braking gauge shows how much energy you've recaptured after every brake application. Butterflies collect on the right-hand screen of the instrument cluster to rate your driving from an environmental perspective.
But the multiple displays and buttons to control them can be overwhelming.
Apps are available for Android and Apple devices that allow drivers to preheat or cool the car and set charge times remotely. The apps also include games to encourage competition among different Focus drivers through social media.
So far, the Focus Electric is the most refined and sophisticated EV we've driven. It provides the most range and has relatively quick charge times. We'll see if these impressions hold up as we complete our tests.