Yves Rossy Fly With the Jetman
We break down Yves Rossy's jet-powered personal flying machine that enables him to soar at nearly 200mph.
Jetman, aka pilot Yves Rossy, is the world record holder for jet-propelled wing flight, successfully performing a series of jaw-dropping flights at speeds of up to 304 kilometres (189 miles) per hour.
He achieves these feats with his jet-propelled wing, a personal jetpack-style flying machine that is attached to Rossy much like a backpack, via a multi-point harness. The wing is powered by four small-scale jet engines, which are scaled-down replicas of those found on fighter aircraft. The engines burn a kerosene/turbine oil mix and each generates a modest 22 kilograms-force (48.5 pounds-force) of thrust – enough to enable Jetman to sustain low-altitude flight for 10-20 minutes depending on his speed and atmospheric conditions.
The wing itself is made from a series of carbon-fibre panels, which are bolted together to form a two-metre (6.6-foot)-wide main body. Attached to this are the wing's four jet engines as well as the fuel tanks, which sit either side of Rossy who is positioned at the top-centre of the aircraft.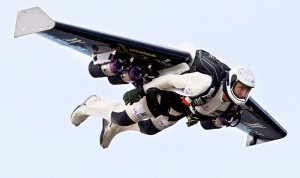 Due to the large power and heat generated by the wing's engines, Rossy himself must wear a specially designed wing-suit when piloting it. This suit is designed to be heavily heat resistant and works in partnership with a carbon-fibre heat shield installed around the vehicle's exhaust tail.
The jetwing is controlled by a combination of Jetman's own head, arm and leg movements, and an engine throttle. Together, these enable Rossy to climb, descend and sweep left and right gracefully, without spinning out of control. However, in the event that a mechanical failure or other emergency were to occur, the wing can be detached and both Rossy and the device can land safely using parachutes.
Facts about Jetman trivia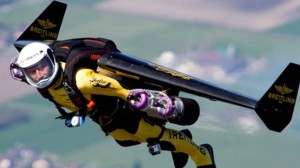 1. Top gun – Yves Rossy is an ex-military fighter pilot who flew in the Swiss Air Force. His career saw him fly a number of combat aircraft including Mirage Ills, F-5 Tiger IIs and Hawker Hunters.
2. Crossing the Alps – In 2008 Rossy flew his wing over the Swiss Alps mountain range. During his flight he reached a top descent speed of 304km/h (189mph) and an average speed of 200km/h (124mph).
3. The rain in Spain… – In 2009 Rossy tried to cross the Strait of Gibraltar, hoping to be the first person to fly between two continents using a jetwing. Unfortunately, bad weather meant he couldn't land in Spain.
4. Swiss Army strife – While only a rumour, it has been claimed that the Swiss military was so impressed with the jet-powered wing they asked Rossy to share a prototype. However, Jetman refused.
5. Jetwing vs rally car – One of Jetman's most recent outings was on the BBC motoring show Top Gear. Here Rossy piloted his latest jetwing in a race between him and a pro driver in a rally car.