World Rally Championship Fact
The WRC series delivers some of the most spectacular and demanding racing in the world, pitting drivers against ice, snow and boulder-strewn cross-country tracks at intense speeds.
From the desert scrubland of Jordan, through the alpine forests of Sweden and on to the snow and ice of Finland, World Rally Championship (WRC) drivers must take on some of the most demanding and technically challenging terrains in all of motorsport. It's a sport where GBP 650,000 (USD 1-million) vehicles are pitted against 13 of the toughest courses in the world and where drivers need to constantly adjust race after race to remain at the front of the pack. As such, the WRC is broadcast in over 180 countries and has a worldwide audience of more than 800 million.
The WRC works by splitting each course into between 15 and 25 special stages, which are short (2.4-kilometre/1.3-mile) to long (50-kilometre/31-mile) stretches of closed roads that the driver – along with a navigator – attempt to complete in the shortest possible time.
Each vehicle, when driving to and from each special stage does so on public roads, adhering to regular traffic regulations. The special stages are often tailored to test specific aspects of a driver's skill and vehicle's prowess, ranging from steep downhill sprints, through tight, winding mountain roads and on to rough off-road canyons and scrubland. The racing goes on over a three-day period, with reconnaissance and 'shakedown' testing runs taking place on the first day.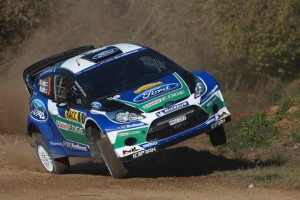 Interestingly – and perhaps another reason why the World Rally Championship has such a substantial fan base – is that as soon as vehicles leave any course's starting point, the driver and navigator can receive no support from the rest of their team; they have to deal with any breakdowns solely by themselves. This adds an extra dimension to each race, with teams racing around and against the clock to get back on the road.
Ford Fiesta RS WRC facts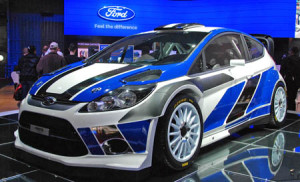 Chassis – Aunitary construction bodyshell with unique composite side panels and aerodynamic rear wing grant the RS WRC a light and streamlined chassis. A welded T45 rollcage is installed for driver safety and extra rigidity.
Transmission – A four-wheel drive transmission contains a front and rear differential with clutch disconnect system. A six-speed gearbox is operated by a mechanical shift and usinga twin-disc clutch.
Engine – Ford's 1.61 (0.4gal) EcoBoost engine, in partnership with a high-powered Garrett turbocharger, delivers a restricted (by regulation) 224kW (300hp). The engine is managed by a Cosworth-designed electronic system.
Wheels – The Fiesta RS can be equipped with either 20 x 46cm (8 x i8in) wheels for asphalt surfaces or 18 x 38cm (7 x 15m) aluminium wheels for gravel and snow. All tyres are from Michelin.
Brakes – Brembo ventilated brake discs with four-piston monoblock callipers deliver insane stopping power across all surfaces. The brakes can be adjusted to provide either a front or rear bias.