What is a Superbike Motorcycle
So fast that some have been sanctioned as illegal, the current generation of superbikes are changing the nature of two-wheeled transport. Take a look at some of the most notable and the advanced technologies they employ.
Optimized for some extreme acceleration, mad braking and unthinkable cornering, superbikes are aggressive, mass-centred machines designed with one thing in mind – pure speed. And it is a steadfast mission of which nothing can stand in the way. There is no compromise. Comfort? Forgotten. Fuel economy? Laughable. Legality? Deeply questionable.
Superbikes are completely transforming the levels of speed at which a human being is capable of travelling on two wheels, pushing the boundaries of performance that few hypercars can better – and, indeed, for a fraction of the cost. Driven by the blurring of the lines between professional MotoGP superbikes and those available to the public – as well as the collapse of a gentleman's agreement between bike manufacturers to limit their vehicles to maximum top speeds of 200 miles per hour – today's superbikes are breaking loose from traditional constraints with the help of some very nifty next-generation technology.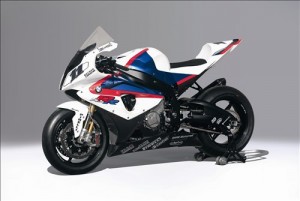 Fundamentally the superbike works by adopting the traditional design elements of a motorcycle and refining it and evolving it to maximize speed and performance. First and foremost, engine power is increased – often well over one litre (1,000cc) – and encased within an aluminium alloy frame to reduce weight. The engine is also rebuilt from scratch from lightweight composite materials (see 'Inside a superbike engine' boxout) and repositioned to maximize weight distribution, structural integrity and crucially, chassis rigidity. The latter is important as it affects dynamism and stability when accelerating, braking and cornering. The motorcycle's geometry is also completely rewritten in order to ensure correct front-to-rear weight distribution and rider positioning for high speed riding. These design alterations include a smoothing of the bike's chassis to increase aerodynamic performance and reduce drag, as well as the repositioning of instrumentation and controls – such as higher foot pegs and lower handlebars – to ensure optimised rider positioning.
Superbikes also feature a significant number of advanced and upgraded components and technologies. In terms of braking, thicker high-grade brake pads are used in conjunction with larger iron, carbon or ceramic-matrix disc brakes, which in turn are fitted with multi-piston callipers clamped onto oversized vented rotors. Suspension systems are multi-adjustable at both the front and rear – which allows adjustment for road conditions and riding style – and wheel forks are fitted with independent left and right cushioning to improve damping performance (the reduction of friction and oscillation at high velocity).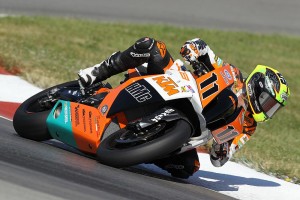 Engine crankshafts (the part of the engine that translates the reciprocating linear piston motion of the power stroke into rotational motion) are also custom built to ensure a smoother combustion process. On top of this, each superbike's transmission is modified to use with dual wet, multiplate clutches (see "Superbike transmission explained' boxout) for lightning-fast and super-smooth gear changes. Both front and rear tyre sizes are also dramatically increased in order to increase traction and maximum riding angle.
And finally, superbikes come fully equipped with numerous smart electronic systems in order to help the rider control the extreme power and speed at which they are travelling. These can range from traditional tachometers, speedometers and rev-counters through to automatic systems to control intake performance across the superbike's rpm range and throttle-valve opening timings for responsive and smooth power. Quite simply, these machines represent the pinnacle of vehicular progress.
Inside a superbike engine
Why do they have such explosive performance?
Almost all modern superbikes have extensive liquid-cooling systems and smart composite materials to improve cooling and heat transfer while in operation. Further, many components are made from lightweight aluminium alloys and are covered with chrome-nitride coatings to reduce friction. Combustion efficiency is achieved by employing iridium spark plugs in conjunction with refined fuel injection systems. In addition, advanced engine firing systems are used to improve the smoothness of energy transfer to the road, as demonstrated in the crossplane crankshaft installed on the Yamaha YZF-R1. Here the YZF-R1's crankshaft is designed to fire unevenly in order to produce combustion rather then inertial torque. This improves power, smoothness and rider feel when riding at speed.
Superbike transmission explained
Modern superbikes use dual-clutch transmissions for maximum performance. These work by having two clutches instead of the usual one sharing the gearbox, with each clutch attached to half the number of total gears. In essence this means that when the bike is in a certain gear the next gear is also selected by the second clutch. Consequently, when the rider changes up a gear and the first clutch is disengaged, the second clutch can instantly engage the next gear, providing a super-fast response time.
Due to the compact, advanced design of the superbike dual-clutch transmission, most systems on the market use wet multiplate clutches. Wet clutches involve submerging the clutch components in lubricating fluid to reduce friction and limit the production of excess heat. This is due to the fact that wet multi-plate clutches use hydraulic pressure to drive the superbike's gears. This works as when the clutch engages, hydraulic pressure from its internal piston forces its series of stacked plates and toothed friction discs against a fixed pressure plate. In turn, the friction discs mesh with the splines on the inside of the clutch drum and the force is transferred from drum to gearset.
Dodge Tomahawk – When 500 million USD meets 550bhp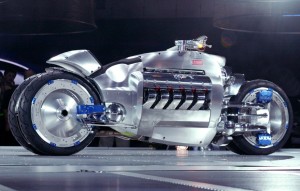 Costing over USD 500 million and sporting the 500bhp, 8.3-litre V10 that can be found in the Dodge Viper supercar, the Dodge Tomahawk is the world's fastest superbike. Indeed, it is so powerful – think 0-60 in 2.5 seconds and a top speed of over 400mph -that it has been banned for legal use on public roads. Despite this, however, Dodge has sold more than ten Tomahawks for private collectors for use on racetracks and private estates.
The Tomahawk is constructed from a 356-T6 aluminium alloy block with cast-iron liners and a series of aluminium alloy cylinder heads. The bike is cooled by twin aluminium radiators mounted atop its engine intake manifolds as well as a force-fed belt-driven turbine fan. Braking is handled by 20-inch perimeter-mounted drilled and machined stainless rotors, partnered with multiple four piston fixed aluminium callipers.
Facts about superbikes
Champ – The Superbike World Championship was founded in 1988 and allows modified versions of road-legal superbike models to be raced against each other.
Moto – In contrast, the Road Racing World Championship was first organised in 1949. This competition is split into three main categories, with MotoGP being the fastest.
Speedus Maximus – The highest speed achieved on a MotoGP motorcycle is 217mph. This record was set by Dani Pedrosa on a Repsol Honda RC212V 800cc superbike in 2009.
RR – The world's fastest street legal superbike as of 2010 is the Ducati Desmosedici RR, which has a rated top speed of 199mph. Ducati claims it is capable of over 200mph.
Tomahawk – The world's fastest street illegal superbike is the Dodge Tomahawk, which has a top speed of over 400mph. Only ten were ever built. They cost 550,000 USD.