What's inside the speediest ready-to-race RC car?
The Traxxas XO-1 can rocket from 0-97 kilometers (0-60 miles) per hour in 2.3 seconds and, just as impressively, 0-161 kilometers (0-100 miles) per hour in merely 4.92 seconds.
Its incredibly high performance is due to a lithium polymer (LiPo) battery-powered motor that engages with an all-wheel drivetrain, which transmits the power to the front and rear gearboxes. At each end, the car features a bespoke Cush Drive damper between the spur gear and drive hub that flexes to absorb the load created by high-traction acceleration. To improve the smoothness of the ride and handling of the car, its shock absorbers are held in stiff aluminium shock towers.
Being a low-slung,1:7 scale model that is 686 millimeters (27 inches) long by 300 millimeters (11.8 inches) wide, it has a large and stable platform that delivers much better stability and handling compared to 1:10 scale cars. In addition, it has a smooth undertray and one-millimeter (0.04-inch) polycarbonate aerodynamic body with an injection-moulded rear wing to convert airflow into downforce while simultaneously minimizing drag.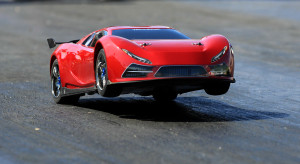 For maximum performance, durability and efficiency, the XO-1's gears are eight millimeters (0.32 inches) wide and the teeth are bigger than those of conventional electric RC cars. The slick tyres are also composed of soft compound rubber to deal with the immense speeds.
Using the Traxxas Link App, connected to an Apple iPhone or iPod touch that's docked in the controller, fine adjustments can be made to the car, and telemetry data from the XO-1, such as RPM, temperature and battery voltage, can all be viewed in real-time.
Radio control system
The TQ1 control transmitter sends out a powerful 2.4GHz signal to the five-channel micro-receiver inside the supercar. Two of these channels control the speed and steering, and it has three telemetry ports that send real-time sensor data back to the controller.
The controller is powered by four AA batteries and has an internal antenna. The main controls are a trigger-operated throttle and a steering wheel. Tweaks to the sensitivity of the steering, throttle and braking can all be made using a docked Device, via a hi-def colour display, which also presents real-time stats on things like speed and RPM. See also The World's Fastest Ready-To-Race