Rimac Concept One Electric Supercar
Concept One is the first full-electric supercar!
This soon-for-mass-production supercar is powered by electric motors delivering 811kW (1,088bhp) to each wheel independently. With no need for an engine or gearbox, this could be the future of motoring.
Although many supercars of the modern era are embracing hybrid technology in a bid to cut down emissions, the Rimac Concept One is the first to claim fully electric status, eliminating physical boundaries set by combustion engines including rev limits and turbo lag.
Instead of a traditional combustion engine, this car's powertrain is divided into four electrical subsystems consisting of a motor, inverter and reduction gearbox with each subsystem powering one wheel independently.
This self-styled All Wheel Torque Vectoring (R-AWTV) generates a staggering 811 kilowatts (1,088 brake horsepower), and in the absence of an engine limited by revs, provides the driver with the added benefit of extremely fast accelerator response across an extremely wide power band.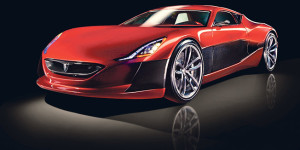 Even better, the 92-kilowatt battery has a decent range too, powering the Concept one supercar for up to 600 kilometres (373 miles) of driving with precisely zero emissions.
The low mounting position of the battery and powertrains ensures a good, low centre of gravity for the Concept One (a must-have for any supercar), and an engineless car does move the goalposts somewhat when it comes to the limitations of a traditional engine.
However, the weight of the Concept One's electrical gizmos mean performance is not limitless: of our magnificent lineup in this feature, Rimac's is the heaviest candidate. Max speed is 304 km/h (189 mph), acceleration 0-100 km/h is 2.8 sec.