Toyota Fortuner 2013 Review
TOYOTA HASN'T PUBLICISED it but, the company has updated the automatic gearbox in the Fortuner. It now comes with five gears instead of four, and this has made a difference to the way the SUV feels.
It is important to know that there's no serious difference in outright performance. This five-speed Fortuner's 0-100kph time of 11.5sec is just 0.3sec faster than the four-speed car, and its ability to shoot into gaps in traffic is also pretty similar. No, the big difference this gearbox brings to the table is added flexibility. Thanks to the extra gear, the Fortuner feels more eager and faster than before, and the jerky throttle response of the earlier box is replaced by a more linear one. It's also much more willing than before to shift down a gear. The gearshifts themselves have become smoother as well.
That said, it's still not the most seamless box around – the SsangYong Rexton's gearshifts are still smoother.
Another nice thing about this gearbox is that it likes to shift up a gear early when you're just ambling along, and this means the engine feels more relaxed most of the time. This is a good thing because, past 3200rpm, the engine sounds rough and the power tapers off too, so there's really no point revving it for all its worth.
The rest of the car remains the same. The interiors are solidly built but don't give much of a premium SUV quality feel. The first two rows are comfortable and the third row, with its knees-up seating posture, is good for short drives only.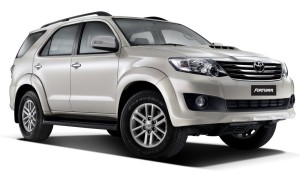 For a tall and heavy SUV, the handling is quite decent, and even sudden lane changes don't upset it as much as they would some of its rivals. There is loads of grip from the wide, 265-section tyres and the steering has reassuring weight as well.
As before, the Fortuner disappoints in the way it rides – it feels lumpy, especially at low speeds, and though it gets better as you go faster, it never feels settled.
Priced at 30.865, the Fortuner is still quite expensive. Still, the new five-speed box has marginally improved things, and there's no doubt, it's a better buy now