Top 10 Dark Sky Locations In Cornwall
By Tiffany Naylor – In 2012, the annual star count SHrvey revealed no real improvement in the level of light pollution in Britain's skies. When asked how many stars could be seen in Orion, just 10 per cent of the 1,000 location reports submitted reported seeing 21-30 stars and dark skies, while only two per'cent saw 31 or more stars in truly dark skies.
The survey also showed that many of us live in light-polluted areas, so there's a need to get away if you want to experience the true wonder of the night sky. This makes Cornwall's dark skies more valuable than ever, especially as we stargazers can combine a traditional British beach holiday with some great dark-sky locations.
So with the guidance of Cornwall Astronomy Society and Kernow Astronomers, here are some of the most beautiful and exclusive spots for stargazing that the county has to offer…
1. Marazion Beach
Marazion, TR17 OEN
With the magnificent St Michael's Mount silhouetted against the sky, this location is ideal for getting lost in time and the heavens. The dark sky here isn't perfect as there is a fair bit of light pollution coming from Penzance in the west, but when looking out to sea the view is almost unaffected.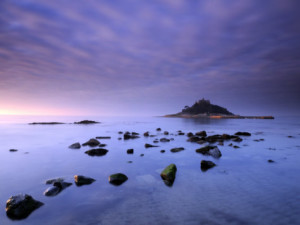 There's a vast range "of high points and secluded areas around Marazion, Penzance and the nearby idyllic fishing village of Mousehole, so on nights when the beach isn't suitable for viewing, there are other locations to choose from. Although this may not be the best location-for dark skies, it does provide true Cornish air and environment.
2. Cape Cornwall
Near St Just, Land's End Peninsula, TR19
An interesting landscape boasting true Cornish beauty, with its unusual buildings and sea-battered cliffsides. The National Trust car park is open at all hours, though there is a charge during the day, and short walks in any direction will unveil many secluded spots for stargazing. St Just, behind a hill, and Penzance, 12km away, are sources of light pollution, but neither affects viewing noticeably and the seeing is generally steady when looking out over the sea. There is a panoramic view from south through west and to the north, and it's perfect for viewing any object that sets in the west.
3. Minack Theatre car park
Near Penzance, TR19 6JU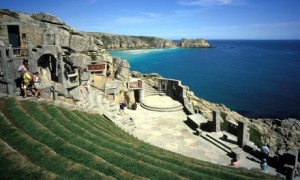 During peak holiday season, this car park will be full through to late evening, so this is a location best suited to night owls who are prepared to observe during the early hours. By day the spot is famous for its picturesque scenery and if you're able to tear your eyes away from the uninterrupted 360" view of the sky, then you may even see dolphins playing in the sea. Porthcurno is a small village to the north but its lights aren't visible from this location, and there are dark skies all around, so observing away from the car park along the coastal path is also possible.
4. Degibna Prayer Chapel
Helston, TR12 7PR
The chapel car park provides a lengthy, open space to settle down and view from overhead to around 30" in all directions. This is a favourite location of the Cornwall Astronomy Society, and group observing sessions take place regularly; contact the society via www.cornwallas.org.uk to find out when they'll be using it. Be prepared for occasional interruptions to your night vision, as the Royal Navy Air Station is based in nearby Culdrose. Generally, though, this is a peaceful location with plenty of open space.
5. Carwenas car park
Bedruthan, near Padstow, PL27 7UW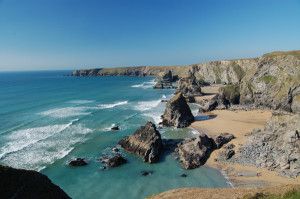 This National Trust location is home to a staggering view of a rugged coastline and Bedruthan Steps, but the real star of the show, at least as far as astronomers are concerned, is the surrounding night sky. Carwenas is far from any light-polluted areas and provides a 360" view with the western horizon on the ocean – perfect for sunsets. Some lights can be seen to the north and east, but these are distant enough for observing to be unaffected. Kernow Astronomers sometimes hold star parties here, but the car park is large and there is plenty of surrounding coastline to observe from, so this shouldn't present a problem either.
6. St Columb Major Academy
St Columb Major, TR9 6RW
By daytime a school playground, at night this location turns into a haven for stargazing. It's favoured by Kernow Astronomers because of its darkness, hard ground and clear view, though the horizon to the east is limited by trees. To use this location, prior arrangement must be made with Kernow Astronomers; for details, see www.kernowastronomers.com.
7. Rinsey Head
Rinsey, TR13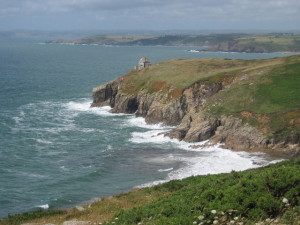 This location is ideal for those with large, bulky kit, as the car park is completely flat. Although the lights of Penzance, Mousehole and Newlyn are visible on the southwest horizon, they are distant enough not to affect the viewing at Rinsey Head. The site is pitch black and offers fantastic viewing all around, with 180" views over the sea to the south and from overhead to 10" to the north. With silence save for the sound of the rumbling waves and no light to pierce the solitude, this location allows for a long, peaceful viewing session of the stars.
8. Lizard Point
Lizard Peninsula, TR12 7NT
This most southerly point on the British mainland is a beautiful landscape that is bustling with tourists during the holiday season, but serenely quiet at night. There are various points to set up telescope kit: at the high peak of the car park, along the winding pathway down the cliffside or on the beach itself. There is a functioning lighthouse by the car park and its beams mean that the view is limited to 35" in three directions, but the southward view out to sea is from right overhead down to the horizon. This is a location that provides dramatic stargazing as well as stunning coastal scenery.
9. Gyllyngvase Beach
Cliff Road, Falmouth, TR11
This may seem a surprising choice because of the potential light pollution, but the small cliff provides protection. Approximately halfway along Cliff Road, opposite the junction with Pendennis Road, are some steps that lead down to a beach that's not only secluded from the street lamps, but also provides a panoramic view of the ocean and sky. Cliff Road has many hotels, making it a great choice if you want your stargazing to be within walking distance. If you don't find or can't manage the steps, then slightly further east along the coast is Pendennis Point, which allows for zenith to horizon views for nearly 240".
10. Goonhilly Downs nature reserve
Near Goonhilly Satellite Earth Station on the B3293, Lizard Peninsula
If you have a sharp eye, you'll be able to spot the huge satellite dishes that dominate the skyline during the day but are no longer lit up at night. The car park is less than 100m from the nature reserve and as this is the only source of light, the view is seriously dark and provides 360" visibility. Sadly the Goonhilly Satellite Earth Station is now closed to the public, but it does still add to the atmosphere. This area is unsuitable for groups but, as possibly the flattest land in Cornwall, is perfect for large kit.