Over the last few years, we have seen some huge developments in digital camera technology. With improved designs and features, manufacturers have enhanced the capture process, ensuring that even a beginner can achieve professional-looking shots regardless of whether they're working with a DSLR or compact camera system.
Raising a few eyebrows along the way, there have been some developments that have stirred up debate – notably in 2008 when HD video was first introduced within a DSLR camera.
Met with heavy criticism from the offset, it has only been in the last couple of years with improved performance and acceptance that HD video modes are now considered a standard feature. Equally in 2009, the introduction of 3D technology proved fairly controversial although it has yet to be considered groundbreaking.
Headlining changes, however, have seen camera bodies shrink, while others have been combined. In 2008 the introduction of a completely new camera system – the mirrorless interchangeable lens camera – took the consumer market by storm with product sales now competing with entry-level DSLRs.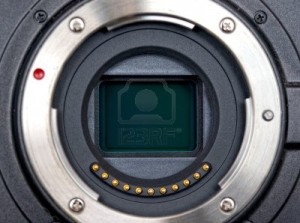 Camera interiors have also advanced with improved sensor technology and increasing megapixel counts; indeed, image quality is the best it's ever been. Standard shooting modes have also had revivals with enhanced auto modes now capable of great shots, without you having to understand the theory behind photography.
With all of these exciting advancements in camera tech, photography has become accessible to the masses, making it popular with both young and old generations. We look into some of the latest developments and uncover how they are transforming the field of photography.
Multiplying megapixels
For a long time, camera manufacturers were at war when it came to their sensor sizes and megapixel counts. Over the last few years, however, a lot more focus has been placed on improving the image quality, refining the sensors and developing new technology.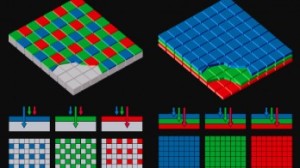 Camera maker Sigma has made considerable inroads into this territory having used some of the latest sensor technology in its new flagship DSLR model, the SDi. Featuring a Foveon X3 direct image sensor, the SDi offers a staggering 46 effective megapixels, a significant amount for a camera of its type. It is only through comparison with a conventional image sensor that it becomes apparent just how the Foveon X3 packs such a powerful megapixel punch.
Essentially, all image sensors are monochrome and can only detect the intensity of light as opposed to the colour. It is an additional layer of photodiodes that filter the light through to the sensor that make it receptive to colour rays. In a standard colour filter sensor, each pixel is made responsive to one select primary colour of red, green or blue (RGB). The photodiodes are patterned to cover each pixel and are laid out in rows, which alternate between red and green in one row and blue and green in another. As each pixel records only one colour ray of light, a process known as colour interpolation is used to ensure that the final colour image is accurate. What the Foveon sensor does differently is ensure that every pixel can receive and capture full RGB colour using a layering system of photodiodes.
This setup therefore enables the image resolution to be multiplied by three, as effectively each pixel within the Foveon sensor encompasses three pixels to a conventional image sensor's one.
Geotagging around the globe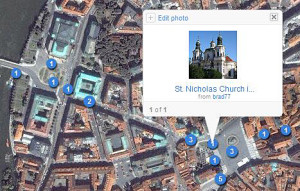 Geotagging is a developing form of technology that has eagerly been introduced into outdoor consumer cameras. Enabling photographers to mark where exactly in the world a photograph was taken, geotagging requires a camera to feature a GPS chip. This GPS receiver can then communicate with a network of orbiting satellites around the Earth to pinpoint the photographer's exact position, using the principle of triangulation. The longitude and latitude co-ordinates are then stored as part of the image's metadata, which you can opt to share online when uploading images to social networks etc.
Tough camera builds
Camera bodies have toughened up considerably thanks to improved build designs and materials. With recent advancements, we've seen cameras emerge that are capable of withstanding almost all of the elements. Offering shockproof, waterproof and freeze-proof resistance, manufacturers have ensured you can continue shooting whatever the weather.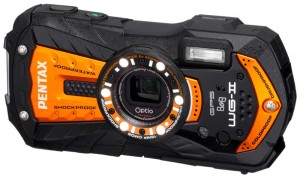 Pentax, for example, recently announced its latest outdoor compacts: the WG2 and WG2-GPS. Resembling a transformer, this 16-megapixel compact is capable of shooting underwater down to depths of 12 metres (39 feet), is shockproof from 1.5 metres (4.9 feet) and can withstand freezing conditions up to -10 degrees Celsius (14 degrees Fahrenheit).
Made from a shock-resistant polymer and elastic material, the WG2's unique outer shell is built like protective armour. With angular ridges and corners, its distinct design offers extra grip when shooting handheld and also goes some way to shelter the lens and back screen if dropped. The interior components of the camera are also protected to some degree from falls thanks to an added special shock-resistant cushioning.
Other elements of the outdoors are kept at bay by rubber-sealed buttons on the body and a specialist locking system on the camera's battery and interface covers. The flash and lens, meanwhile, feature protective glass, which has been glued with extra-strong adhesive to ensure the WG2 remains totally watertight even under pressure.
Merging photos and video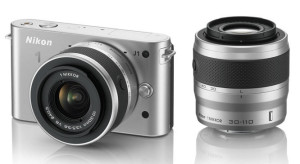 Nikon recently announced the release of its first compact system cameras: the Nikon 1 Ji and Vi, both of which incorporate some new and exciting shooting modes.
The Motion Snapshot mode appears in both cameras and creates what Nikon describes as a 'living image'. Combining a slow-motion movie file with a still image, this shoot setting enables you to put your photos and video clips together in context. Designed not to slow down the capturing process, the camera will harness its pre- and post-capture technology to record a one-second, 1080p full-HD BGM file while shooting your still. Recording at 60 frames per second, as soon as your finger touches the shutter button, the movie will start capture almost 0.6 seconds before the shutter is fully pressed and continues on for an extra 0.4 seconds once the full-resolution image has been taken. The camera will then process the movie file and slow it down to around 24 frames per second, creating a 2.5-second, slow-motion video clip. Combining both elements together, in playback the camera will sequence the movie footage first before fading into the still. It's an ideal way to share special moments with friends and family online.
Nikon has also developed what's known as the Smart Photo Selector mode. Designed to help ensure you never miss a moment or a great shot, this setting works again with the camera's pre- and post-capture technology. Once this shooting mode has been selected, the Nikon 1 camera will begin photographing 20 full-resolution images at a rate of 30 frames per second, both before and after the shutter button has been released. The camera will then assess each image using a programmed set of good and bad criteria. Factors such as camera blur, composition, smiles, sharpness and blinking will all be taken into account before the camera intelligently selects five final shots for you to choose from including a recommended best.
Face detection and recognition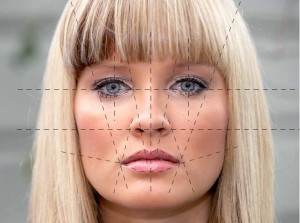 Face detection isn't entirely new technology but recent developments mean its capabilities are greatly advancing. Enabling a camera to automatically locate a face within the frame, face detection works by using an algorithm that detects and triangulates facial features – usually the eyes and mouth. Once a face has been found, the camera will then optimize its exposure and focus for the subject. Even if the person were to move, provided the facial features remain partially in view, the camera would remain locked and track them. Most cameras provide a multiple setting too so that you can do this for more than one person in a frame, to incorporate group shots of up to ten people.
Face detection can now also incorporate smile and blink detection, ensuring you get perfect results every time you shoot. Programmed into the camera, smile detection simply waits for a change in face shape that resembles a smile before the shutter is released to shoot. Blink detection, on the other hand, will quickly review the results of the last image taken to ascertain whether or not a subject has blinked; the camera will then independently decide whether or not to take another shot.
A more recent advancement to face-detection tech is face recognition. A new feature in many cameras – including Pentax's latest Optio VS20 -face recognition enables you to shoot a portrait and then store that face in the camera's memory. Particularly useful if shooting in a crowd, the camera will automatically locate this person to set the best exposure. It's also been used by authorities to track down criminals and terrorist suspects.
Light-field camera technology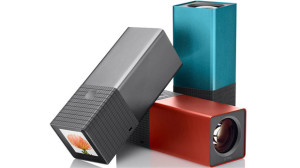 Trailblazing ahead with new camera technology, Lytro announced its first product last year: a light-field camera. Incorporating brand-new tech, the Lytro camera enables you to shoot first and then focus your shots later using your computer.
Unconventional in design and build, the Lytro camera is unique in the way that it captures light. Traditionally a camera will find a focal area depending on how far the subject is in relation to the sensor. The Lytro camera, in contrast, records light at various distances from all different directions so that you can opt to select a focal point later, anywhere in the frame.
Built to incorporate light-field technology, the camera features a set of microlenses in front of its image sensor. The light, which then enters through the front lens, is split through the microlenses and is encouraged to fall across multiple pixel locations at different angles. All of this directional data is then recorded in the camera's light-field engine, which will convey the information to the software on your computer when the images are uploaded for focus adjustment.
Available in an 8GB or 16GB model, this revolutionary point-and-shoot camera means that shots can be recycled again and again, simply by changing the focus.