How Do 5.1 Headphones Work
There are two types of 5.1 surround-sound headphones: simulated and non-simulated.
Non-simulated, or 'true', 5.1 headphones use multiple speakers embedded in the headphones' two earpieces to generate multi-angle sound placement, while simulated varieties employ complex sound-processing algorithms to create the same effect.

Taking non-simulated headphones first, the surround sound comes from six channels – it is not five channels, as the '.1' low-frequency channel (subwoofer) is counted – with signals received from the decoder/player split across each earpiece. This arrangement typically generates more accurate sound placement due to each channel having an individual driver.
Simulated 5.1 headphones, meanwhile, achieve directional sound placement differently, relying on only one speaker per earpiece and only one driver per channel. Multi-direction sound placement comes courtesy of an in-headphone or externally connected pre/mix-amp.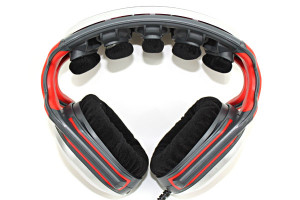 This amp employs mathematical algorithms to divide the received stereo signal into distinct segments, before it reaches the earpieces. In doing this, the amp ensures that audio from the speakers hits specific parts of the ear in a certain order. This generates the illusion that specific sounds are coming from the front, rear or side.
Tritton AX Pro Dolby 5.1 Headphones review
While 'true' 5.1 headphones do generally produce better sound placement, due to the smaller scale of their internal speakers, they rarely boast the audible range of simulated or non-surround-sound headsets, which have larger single speakers in each earpiece.