How Big is the London Olympic Stadium
Discover how big is it, how it was built, the materials that were used and which features make this the best-ever Olympic arena.
Let's kick off with some fast facts. The London 2012 Olympic Stadium was created by the excavation of 800,000 tons of soil – soil that was then reused in construction throughout the wider Olympic Park. The arena also took only 10,000 tons of steel to create, which is significantly less than any other Olympic arena built to date – indeed, the entirety of the impressive top ring of the stadium was forged out of pre-existing, surplus gas pipes.
The stadium's roof covers a huge 67 per cent of the seating within and was constructed out of phthalate-free polyvinyl chloride (PVC), which not only led to it being one of the most cost-effective stadium roofs in history but also one of the most environmentally sensitive. Despite these impressive construction techniques and materials, these are only a few of the reasons why the London 2012 Olympic Stadium is one of the best ever conceived.
A bigger, and arguably even more important, element of the arena is its construction to a super-flexible and fluid design brief, with the central venue split into three key sections: the track/field, lower-tier seating and upper-tier seating arrays.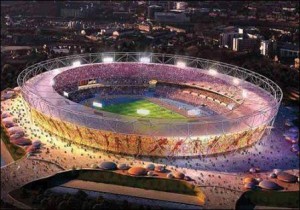 This clear segmentation of the huge, 80,000-seat stadium is due to an emphasis on sustaining its usability after the 2012 Games has finished, with key parts able to naturally evolve to suit a wide range of future events.
A good example of this fluidity is in its adoption of a completely removable second tier of seating, which despite providing a vantage point this summer for 55,000 spectators per event day, can be completely removed once the tournament is over, granting the local authority or private buyer a great deal of freedom in any re-specification. Indeed, it has been recently announced that the stadium will be adopted for the IAAF World Championships in 2017.
This forward thinking in terms of future evolution is also demonstrated in the design of the Olympic Stadium's concourse and convenience facilities, with the former granting a 360-degree freedom of movement for spectators and athletes around the vicinity of the arena, and the latter providing a host of facilities all positioned outside it; toilets, merchandise and catering booths, etc, are largely located in external pods.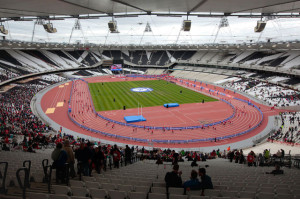 All this sustainability and legacy, while impressive, has not however compromised the stadium's outfitting, with some cutting-edge technology and advanced facilities on display.
Within the stadium two custom-built Panasonic TV screens have been installed to show key events, scores and information to spectators – the screens each measure an insane 1,836 centimetres (723 inches).
In addition, a dedicated high-tech medical support suite has been integrated within the lower tier's infrastructure, enabling athletes to receive the best medical assistance on site. Also, athletes will have access to a dedicated 60-metre (197-foot) warm-up track and spectators will be able to access the stadium's concourse through five custom-designed bridges.
London Olympic Stadium to host Diamond League
West Ham keen to keep Olympic Stadium's iconic triangular floodlights
London Olympic Stadium
Ground breaking: 2007
Opened: 2011
Location: Stratford
Surface: Track and field (grass)
Cost: GBP 486m (USD 765m)
Capacity: 80,000


---