How Action Cameras Record On The Go
GoPro has been making wearable cameras for nearly a decade now, since its debut 35-millimetre (1.4-inch) film camera system was launched in 2004.
They were originally designed for making point-of-view surfing videos but have now expanded to cover a huge range of extreme sports and pursuits, including diving, skydiving, motocross and more or less anything where a hands-free video recorder is required.
The principal features of these cameras have always been that they are small and lightweight, shockproof and waterproof, and compatible with a host of mounts that enable them to be securely attached to the user and get up close to the activity. They also use multimedia technology that allows for crisp audio and video capture at speedy frame rates.
There are three versions of the GoPro HERO3, all of which can record io8op-resolution video at a minimum 30 frames per second, with the top-end Black edition capable of the latest 4K video at 15 frames per second. The standard photo mode can snap 5-12-megapixel shots at regular intervals of 2-60 seconds, although it differs from standard digital cameras in that there is no zoom lens or viewfinder.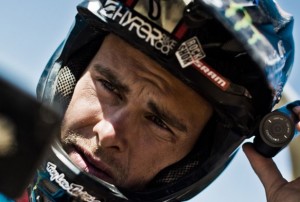 In any case the GoPro HERO is designed to be activated and left to its own devices, rather than manually operated, enabling the user to focus their full attention on the extreme sport at hand.
Finally, the vital mounting components comprise a comb joint, nut and bolt, and the GoPro HERO3 also boasts mounts tailored especially for handlebars, roll bars (for sports cars), helmets and a chest harness.
A real hero: Felix Baumgartner
Easily the GoPro HERO3's most prominent media use to date was in the Austrian skydiver Felix Baumgartner's record-breaking Red Bull Stratos freefall. On 14 October 2012, Baumgartner took a specially designed helium balloon into Earth's stratosphere, setting an altitude record at just under 39 kilometres (24 miles) for a manned balloon flight (the edge of space, incidentally, is found at 100 kilometres/62 miles). He then jumped out of the balloon and set the world record for the highest parachute jump and, during the same jump, achieved a speed of 1,357.6 kilometres (843 miles) per hour for the greatest human freefall velocity ever achieved.
The entire event was recorded using five GoPro HERO3 cameras, all strapped to various parts of Baumgartner's body and positioned in strategic point-of-view angles. Naturally, they caught the moment he broke the sound barrier – the first person ever to do this in freefall.
Another dimension
GoPro has a number of accessories that enhance a multimedia capture device of this kind in the field, but one of the more sophisticated and interesting systems has to be the 3D HERO.
This is essentially a housing that lets you combine two GoPro cameras together, side by side. Once in place, either end of a cable plugs into the rear port of each of the cameras to synchronise video, photos and sound. As the apertures of each camera are separated by no more than a couple of centimetres (like our eyes), the data captured is very similar but still differs slightly. It's just enough for a bespoke piece of software to stitch the video or still images together to create a three-dimensional result. This can then be viewed with a pair of 3D anaglyph glasses. Because the 3D anaglyph data is the result of two 2D images, both 2D and 3D footage can be recorded simultaneously.