Captain Scott's Ill-fated Terra Nova
Captain Robert Falcon Scott's Terra Nova expedition was the equivalent to a mission to Mars today. Antarctica was just as alien, deadly and fascinating as the Red Planet, and it needed a great deal of preparation and planning for anyone to even contemplate making it to the South Pole.
To reach the Antarctic, Scott bought the Terra Nova, an old whaling ship that was reinforced with 2.1-metre (seven-foot) oak beams from bow to stern. Transport on the ice consisted of three motorized sledges and 44 normal sledges. They brought 19 ponies and 33 dogs with them to pull the sledges, though Scott always planned to man-haul these on the final leg of the journey.
To deal with the weather that can range from -30 degrees Celsius (-22 degrees Fahrenheit) in the summer to -60 degrees Celsius (-76 degrees Fahrenheit) in the winter, they wore wool and fur-lined waterproof clothing, mittens and finnesko (reindeer skin) boots. Tinted goggles were also used to help prevent snow blindness.
Away from base camp, paraffin-fuelled Primus stoves were employed to heat the explorers' meals and drinks. Much of their diet comprised a mixture of mincemeat and oil called pemmican; this was combined with melted snow to make a stew called hoosh. Daily rations also included hard, high-protein biscuits, tea and cocoa. They slept in four-man tents that consisted of four bamboo corner poles covered with a lined canvas fabric.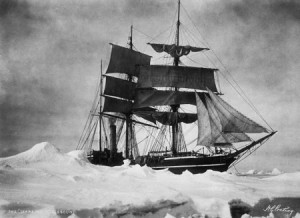 Throughout the journey of the Terra Nova, observations were made of the marine biology, meteorology and currents, tides, salinity and the temperature of the sea. On reaching Antarctica, two geological journeys were carried out to explore the geology of the Western Mountains, and a three-man team made a special study of the emperor penguin.
They collected 2,109 animals and fish, of which 401 had never been documented before, along with samples of volcanic rock and fossilized plants. More meteorological data was collected and they carried out hydrographic measurements of both land and sea.
The main party headed by Scott spent their time laying depots of supplies and food to support the journey to the South Pole, which they eventually reached on 17 January 1912. Pipped to the post by Norwegian explorer Roald Amundsen, Scott's team died from a combination of dehydration, hypothermia and scurvy on their return to base. Their bodies were found on 12 November 1912.
Although ending in tragedy, Scott and his men were hailed as patriotic heroes who fought and lost against great odds. They certainly left a legacy of scientific research that still helps us today to understand the many mysteries of the Antarctic.
Inside Scott's hut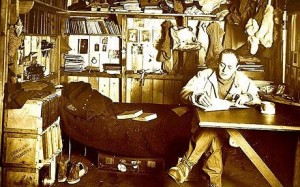 The prefabricated hut only took two weeks to build after Scott landed at Cape Evans on 4 January 1911. It measured 7.6 metres (25 feet) wide, 15.2 metres (50 feet) long and 2.7 metres (nine feet) high.
The wood board walls were insulated with ruberoid and shredded seaweed inside jute lining bags, and it was heated by a seal blubber-fuelled stove. It featured living quarters, bunk beds and laboratories. Stables were built to the north side and a storeroom was added to the south of the hut.
It included a photographic darkroom and the laboratories were filled with radio and chemical equipment, microscopes for examining biological samples, dissecting tables and a range of thermometers and meteorological recording devices including a Dynes anemometer that measured wind velocity. The scientists in the team regularly lectured on their research to the rest of the expedition members.
Life in the hut was relatively comfortable. Acetylene generators provided artificial light, while a pianola (autopiano) and a gramophone player entertained them during their limited leisure time. Cooked food was plentiful and varied, and the heating pipes from the stove kept them warm; all a stark contrast to conditions outside the hut.
Last Five Man In Terra Nova Expedition
Robert Falcon Scott – 6 June 1868 – 29 March 1912
Scott, along with Ernest Shackleton and Edward Wilson, got within 850 kilometres (530 miles) of the Pole during his first 1901-1904 Discovery expedition. Afterwards, he and Shackleton became rivals. Scott had an autocratic style of leadership, yet he was shy. He also suffered from long periods of depression.
Lawrence Oates – 17 March 1880 – 16 March 1912
Oates contributed 1,000 GBP to the expedition fund and was in charge of the ponies that pulled the sledges that lay down the food depots and supported the first leg of the polar journey. He was highly critical of Scott's leadership skills. Famous for sacrificing himself so that the team could go on without him.
Henry Bowers – 29 July 1883 – 29 March 1912
Bowers was a very tough and hard-working character, who was nicknamed 'Birdie' due to his beak-like nose. He took responsibility for organizing food supplies, loading the sledges, organizing the stores and planning the logistics for the march to the Pole.
Edgar Evans – 7 March 1876 – 17 February 1912
Petty officer Evans was a Welshman with a reputation for drinking and womanizing. Scott nonetheless admired him for his strength and resourcefulness. He was responsible for loading the sledges and looking after the equipment. Returning from the Pole his mental and physical condition rapidly deteriorated.
Edward Wilson – 23 July 1872 – 29 March 1912
The ever-helpful Wilson was the chief of scientific staff. He was a physician and zoologist who had made a special study of penguins, whales and seals in the Antarctic. He was also an accomplished watercolour artist.
Facts about polar explorers
James Clark Ross – Commanding two vessels, HMS Erebus and HMS Terror, Ross f charted the Antarctic coastline from 1839-43. He discovered it is a continent and set a record for sailing so far south.
Roald Amundsen – Amundsen's team was regarded as more skilful on skis, and benefited from using dog sledges. He was also the first undisputed man to reach the North Pole.
Ernest Henry Shackleton – Shackleton was part of Scott's 1901-04 Discovery expedition. He lead his own 1907-1909 Nimrod expedition, which discovered the Beardmore Glacier.
Richard E Byrd – Byrd was the first person to fly to the South Pole. Using a Ford Trimotor he and three crew flew from his Little America base on 28 November 1929.
Carl Anton Larsen – Larsen led the first Norwegian Antarctic expedition from 1892-94. In 1893, he was the first to use skis on Antarctica where he discovered the Larsen Ice Shelf.