Best CCTV System in the World
The London Streets Traffic Control Centre (LSTCC) in south London is the hub for one of the most sophisticated CCTV systems on the planet. It needs to be, because it's responsible for most of Greater London's transport infrastructure and covers hundreds of square kilometres within the M25 circular motorway, streamlining the day-to-day lifeblood of one of the most traffic-intensive cities on Earth. More than 6,000 lights and 3,250 cameras monitor the streets and control traffic across 14,000 kilometres (8,700 miles) of urban highways and busy city roads. They're there to help manage flow at peak times, divert vehicles around congestion hotspots and keep London's drivers, cyclists and pedestrians informed using an impressive arsenal of technologies and a highly skilled workforce.
"The LSTCC is there to keep London moving," chief engineer Brendan Sleight tells us as we cross a curious revolving security door that leads into the more sensitive areas of the building. "It's a bit like air traffic control at Heathrow Airport or the railways: we cover the whole of the road traffic network across all of London – it's our responsibility."
We enter the 'brain' of the LSTCC, the control centre, and it's certainly not disappointing. Row upon row of monitors – three or four for each of the dozens of operators – display images from every corner of the capital. In the middle of the centre are a handful of core operators-the people who receive alerts and distribute them to the relevant staff in specialised departments. Behind them is a bank of giant screens that dominates the room, showing a map of London and myriad icons.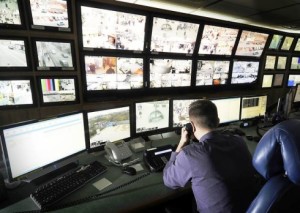 We speak to an operator who's picked up an alert from the police. The computer tells her it's not a major incident, but she won't know its exact nature until she looks at the camera that monitors that stretch of road. Admittedly to our slight disappointment, it's just a broken-down car, but she's able to gauge it's not going to obstruct traffic on the busy highway as it's on the hard shoulder. So with the police already on the scene, the operator simply notifies drivers via the TfL Twitter feed and website.
"The skill and knowledge of an operator is irreplaceable," Sleight says. "You've got these people who know what 'normal' looks like -they can just look at something and instantly see that it's normal. It's really difficult, for example, to program for a situation where a bus has pulled over and another bus is behind it, waiting for the bus in front to decant the passengers onto it. It's not difficult, on the other hand, to program the system to tell an operator to come and have a look at it." Es George, who heads up operations at LSTCC, reiterated the importance of skilled operators who instinctively know what's 'normal'.
Bumper-to-bumper traffic moving at 50 kilometres (30 miles) per hour at rush hour on some stretches of the busy North Circular Road might be standard. But at 2pm, or at rush hour on a different road, it might be considered unusually congested and require attention.
Some very clever computing facilitates all of this. Indeed, the LSTCC couldn't work without Image Recognition and Incident Detection (IRID). This highly sophisticated software can familiarize itself with road conditions and spot when something's wrong, or at least different.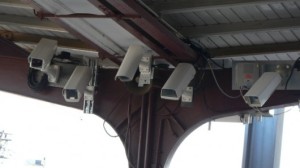 The engineers can program specific conditions into the software that monitors a section of road, so that if those conditions are exceeded, it alerts people in the control centre. Next we are shown a busy box junction where two lanes of vehicles are waiting at traffic lights. While they're waiting, IRID is monitoring them, detecting their stationary status and visually reporting that data to the engineer via a series of grey XX's that begin to cover the vehicles on the screen. IRID can distinguish between a street scene and a vehicle, and recognizes that, say, a car is not moving. As a result, if the vehicles are there too long, then IRID will send an alert. It's a very effective and organic decision support tool for LSTCC workers.
Although digital CCTV technology has been around since the early-Nineties, London Traffic Control has only recently needed to make the wholesale upgrade to digital. The old analogue system used existing fibre-optic networks leased from third-party providers to access a camera by keying in a code from a manual. There was no multicasting: only one operator could use a camera at a time. Not only does the new digital CCTV camera system give LSTCC operators far more control, but it's much faster too. Crucially, TfL has ensured that it's open-standard and that it holds all the intellectual property rights for it, rather than buying a pay-per-view system that locks the traffic control centre into it for ever.
"The camera system has been developed as the technologies have changed and the strain on the network has increased," Sleight explains. "We got to 23 analogue camera matrices… and we couldn't do things like multicasting. So we finished going over to a digital system just over two years ago, so that we can actually share our cameras easily with everyone else and have multiple users looking at the same cameras [simultaneously].
"The more efficiency we can get out of the cameras the better. We can share with local boroughs, [as well as organizations] like the Metropolitan Police; they get to see our cameras so they don't have to put their own camera up and vice versa, so there's only ever one camera on site. Occasionally the police want to see different things from what TfL wants to see, but we have really good procedures for when we can ask for the camera and so do they."
We take a look at another of the operator's screens which shows a digital street map of London peppered with icons. The technician rapidly pulls up a few different displays and shows us how, simply by clicking on an icon, he can access that particular CCTV camera. With a bit of dragging and dropping, he's transformed the monitor into a quad-screen showing four different live views of London. Another click and the entire screen has turned fish-eye, offering a broader perspective.
Many authorised people can view a single camera, but only one person can control it at a given time, so LSTCC staff can also request- or force – an override on any camera that's currently in use. Using the same system, camera faults can also be reported, as we discover when the operator hits a black screen displaying 'Faulty CODEC' on a camera overlooking the Purley Cross junction near Croydon. It turns out to be one of the handful of analogue cameras that TfL still has out in the wild. He immediately reports it and a technician is scrambled to the scene: "That actually normally means the site has lost power," we're told. "A break in the cable down the pole or, more likely than not, this fault has been caused by a transmission failure from BT, which provides the analogue feed back to where we're doing the encoding. Long term we're moving the encoders all out to the street, but they've got nowhere to go at the moment."
Precise planning is vital to London Traffic Control and one of the biggest tests for the LSTCC, as well as its new digital system, was the 2012 Olympics in London. Though broad systems are in place to deal with unplanned events, the LSTCC can only be reactive to a burst water pipe, a truck broken down or an accident that forces a road closure. The LSTCC had the luxury of several years' notice for 2012's Summer Olympics though. "Some of the planning started when London had the announcement, but some of it began before that because we had the visits from IOC officials and we had to make sureall their trips were smooth," Sleight reveals. "It started in earnest four years prior to the Games and I think we had all our different shift patterns and the requirements for running control seven months in advance of the Olympics."
London Traffic Control had three main priorities in its approach to the Games. One of them was that no official or athlete could be late for any event. Second was to minimise the effect on Londoners, and third was to keep the rest of London and its businesses supplied with the transport and freight they needed to deal with the massive influx of visitors from all over the world. All three of these were achieved and, moreover – by making sure every athlete and official was on time for their respective events – the LSTCC actually achieved an Olympics first.
Looking to the future of CCTV in London, we ask whether the system will ever be fully automated. "I think we'll use the IRID system more and more to feed our intelligence," Sleight replies. "For it to say to the operator via an alert, XI need your expertise to take a look at this'. I think we'll see more automatic alerts, but we'll still need human operators to see that it's someone who's pulled over, or a bus changing over passengers. We're always pushing the boundaries of what can be automated. We want to use the intelligence we've got to look at as many things as possible and, if we can automate some of that, that's great."