The Andy Pad Pro is a low-cost Android-powered tablet relatively new to the market. The Andy Pad Pro's unibody, plastic-composite shell is machined with a high-tension threshold and is purposely designed to withstand drops as well as bumps and scrapes -something helped by the sturdy body which is 1.27 centimetres (0.5 inches) thick. The operating system of the Andy Pad Pro is a modified version of Android 2.3 Gingerbread that comes pre-installed with a variety of apps. One of its most innovative features is the auto-typing feature – SwiftKey Tablet X – which is a keyboard replacement app that uses an advanced prediction engine (see Typing recognition' boxout).
Inside is a Cortex A81GHz single-core processor with 512MB of RAM and a 3D-capable GPU. For connectivity purposes the Andy Pad Pro has a 3.5-millimetre (0.1-inch) headphone socket, mini-HDMI port, micro SD slot and a charging port, while a built-in Wi-Fi receiver supplies access to the web.
The device has a 17.8-centimetre (seven-inch) capacitive LCD screen with a resolution of 1,024x 600, which can be used for HD movies and games. The screen supports up to five-point multitouch, allowing for a range of gestures and commands to be used with Gingerbread. The tablet also has an accelerometer that can switch the screen between portrait and landscape modes, in addition to providing an alternative method of control in motion-sensitive games.
A stripped-down base unit Andy Pad is also manufactured. At 374 grams (13 ounces) it is 18 grams (0.6 ounces) heavier than the Andy Pad Pro, has only one camera and a resistive (rather than capacitive) 800 X480 screen. It also has half the memory of the Andy Pad Pro – 8GB (again, with the option of upgrading to 32GB with an external SD card) as opposed to the Pro's 16GB.
Typing recognition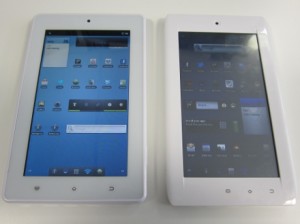 How does the Andy Pad tablet learn how you type?
One of this tablet's most advanced features is its typing system. It uses SwiftKey Tablet X, which is a keyboard replacement app that uses a smart prediction engine. From users' Facebook, Twitter and Gmail accounts it learns typing patterns and how they generally construct sentences, ultimately helping users to type much more quickly and efficiently. Software like SwiftKey Tablet X is able to log your writing style in order to more easily predict the words you may type in the future.
Read also The Andy Pad Pro is an enhanced version of the existing Andy Pad
Read also Andy Pad Pro review: A solid bargain for budget-conscious UK consumers
Read also Andy Pad Pro Android tablet review and AndyPad / AndyPad Pro review
Aside from its advanced word prediction engine, SwiftKey is also integrated system-wide throughout the Android OS. This means that, despite the application the user types in – be it a stock email client or social-networking tool like Facebook or Twitter -SwiftKey's system tracks and logs text patterns and sentence construction, allowing it to 'learn' their typing style and, as a direct consequence, speed up the writing process. Eventually, users can type full sentences by just tapping words as they appear based on the software's programs.
---