How Does Nintendo DS Work
The 'XL' in Nintendo DSi XL symbolizes its ability for more than one player to enjoy the device at a time thanks to the large screens that display at a low resolution to increase the size of each pixel. It may not be pin sharp, but it is much clearer from a distance.
Married to TFT screen technology that carefully aligns each pixel for much wider viewing angles, the experience is more engrossing than ever before.
The 'i' in DSi symbolizes the two cameras that have been designed with one facing towards and the other away from the user; they are low resolution at only 0.3 megapixels, but are complemented by software that lets you distort photos, add special effects and share wirelessly on social networks.
The DSi XL is standalone thanks to the inclusion of 802.nb/g Wi-Fi, which gives the device speedy wireless internet access up to 36 metres from a wireless router or hot spot and also allows access to the Nintendo Wi-Fi Connection Service, designed to allow free online play against other Nintendo users.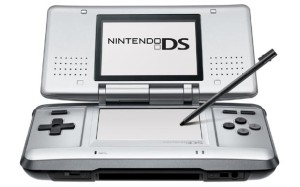 The included 16MB of RAM is primarily used by the DSi Browser for speedier surfing and to store cached pages and images while the 256MB of flash memory is used to store downloaded games and other media.
The 133 MHz processor is twice as fast as previous models and processes gameplay mechanisms alongside another, slightly slower, processor which processes sound, Wi-Fi and other background functions.
The two work in tandem to spread the load of multiple actions at any one time. Good sound is achieved through large speaker enclosures. The large battery can last for up to 17 hours on a low brightness setting.
Finally, the audio recorder uses audio filters for excellent recorded sound by eliminating some sound types and letting others through. This is just one lesser-known example of the huge amount of technology that has been squeezed into the DSi XL.
Most of the technological improvements to be found in the DSi XL model are not simply the result of improved innovation, but also the ability to use larger components in a larger housing.