Satnav devices have got the A-to-B route planning down to a fine art – simply load up your destination and the combination of 3D mapping and voice guidance will get you to where you want to go. So where does satnav go next?
The answer is connectivity. The new Garmin nuvi 1690 comes with a built-in SIM card that creates a permanent data connection to the internet, enabling the device's nuLink software to download relevant information about your journey as you drive, from traffic to weather to real-time fuel prices at nearby petrol stations.
It's easy too, and perfectly integrated into the all-round functioning of the device, and turns the satnav system into a kind of 'location aware' internet tablet. In practical terms this means you can use the Google Local Search feature to search for, say, Indian restaurants, and the resulting list of results will show said establishments listed in order of their proximity to you.
And because it uses exactly the same technology that powers Google on a desktop computer you get all the added interactive benefits of that service as well – things like restaurants and hotels will also often be accompanied by user ratings and reviews, so you're not simply finding your nearest restaurant, you're finding the best one.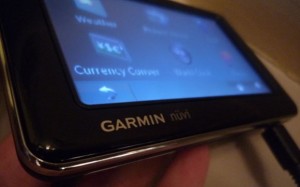 This Google search feature is one of the highlights of nuLink, complementing the traditional points of interest database in the device with more relevant and up-to-date information.
The other key benefit of the service is the live traffic information that it provides. This gives you the chance to see any potential jams on your route ahead, and you can set the system to automatically reroute you to avoid them, or you can take your chances and deal with any possible delays on a case by case basis.
Regular build-ups of traffic, for example, might have cleared by the time you reach them, while serious road works will most likely not have.
By having its always-on data connection, the Garmin nuvi 1690 is able to deliver other information straight to you as you drive. The fuel price service removes the 'cat and mouse' approach to filling up on a long journey, nuLink shows you the prices at all your upcoming petrol stations so you can easily compare.
Another useful money-saving feature is Garmin's ecoRoute application. Enter a few details about your specific make of car and the way you drive and ecoRoute will plot your journey in the most fuel-efficient way – it's unique to you, will show exactly how much money you will save, and as an added bonus helps you cut down on your carbon footprint as well.
These features show the direction that tomorrow's satnav systems are heading. No more are they mere digital atlases, but rather fully interactive and personalized devices that deliver highly contextualized information.
Whether you want to know what the weather is like at your destination, whether your flight is on time, or where you should meet your friends when you arrive it is all possible, and much more besides.