As Cadillac's new flagship sedan, the XTS is meant to restore the luster to the automaker's luxury image. It replaces the discontinued DTS and STS sedans, and bears the burden of appealing to two distinct groups: buyers of European competitors and Cadillac's traditional customer. As such, the XTS is a large sedan laden with advanced technology.
So far, we're finding that the XTS falls short in trying to juggle that dual role. While it has a very well-finished, spacious, and quiet interior, its handling lacks the agility and prowess of its European and Japanese competitors. In addition, the new CUE (Cadillac User Interface) infotainment system is so cumbersome to use that it may be a deal breaker for any customer.
Driving impressions
The XTS hasn't found the ideal balance of ride and handling. The ride is not as absorbent and body motions are not as well controlled as in the Audi A6 or Mercedes-Benz E-Class, or even the Buick LaCrosse, which the XTS is based on.
The XTS' Magnetic Ride Control system allows for almost continuous damping adjustment, but it doesn't make the big Caddy feel particularly settled.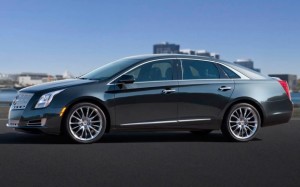 The XTS' complement of safety features includes a lane-departure warning system that vibrates either side of the driver's seat cushion to indicate which way the car is wandering. And a collision avoidance system checks behind the XTS as you reverse, and will similarly vibrate the seat if an object or vehicle is in the way. Some drivers, however, may be startled by the "electric chair" experience until they get used to it.
Under the hood
Power comes from a 304-hp, 3.6-liter V6 engine that's coupled to a six-speed automatic transmission. The combination smoothly delivers power and the drivetrain feels very refined. The XTS is available with all- or front-wheel drive, which we opted for.
Inside the cabin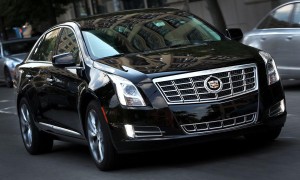 Passengers will find a very roomy and well-finished interior with rich looking wood surfaces; supple, nicely-stitched leather; and large, supportive contoured front seats. The rear seat is spacious and accommodating, a welcome departure from the cramped quarters of the old STS.
The XTS is the first model to use Cadillac's new CUE system. It is similar to MyFord Touch in that it replaces most traditional knobs, buttons, and gauges with configurable digital displays, flush-mounted touch-sensitive buttons, and screens that are changed via an iPad-like swipe motion. There are differences in the design and usability of the system, but it brings many of the same distractions and frustrations.
On paper, the XTS could be a contender in its category, but Cadillac may be casting too wide a net with the sedan. It's neither as sporty to drive as the CTS, SRX, or new ATS, nor as coddling as the Audi A6, Mercedes-Benz E-Class, or Lexus GS. As such, Cadillac may have a hard time attracting new buyers from either side.