Who is Eunice Kennedy Shriver – Special Olympics Founder
On July 10, 1921 was born Eunice Kennedy – sister of President John F. Kennedy, and the fifth child of his parents. Eunice was about four years younger than his brother, who became president, but she was older than the other two famous brothers – Robert (Senator, Attorney General and candidate for president) and Edward (longtime senator).
Eunice is among his brothers and sisters were known as the benefactor and champion of the rights of intellectually and physically disadvantaged children and adults. It's about her mother Rose was valued for Philanthropy (received from the pope even count's title, and has experienced 104 years of age). Eunice has acquired special merit of running the Special Olympics. It all started by Eunice founded the camp for children with intellectual disabilities in their home. Later in the idea included sport and became a Special Olympics. Otherwise, Eunice had a sister with intellectual disabilities exacerbated by a failed lobotomy.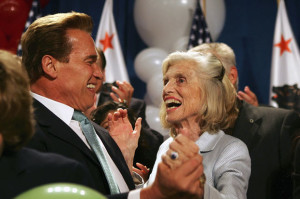 Eunice Kennedy for his action was awarded many prizes. Pope had declared the lady by Order of St.. Gregory the Great. Received from President Reagan and the Presidential Medal of Freedom (Presidential Medal of Freedom). It is interesting that Eunice was very Catholic, and even distinguished and pro-life orientation among supporters of the Democratic Party.
Kennedy – Schwarzenegger relationship
She married Robert Sargent Shriver (U.S. Ambassador to France), and their last name and the last name of Kennedy Shriver added. Their daughter, Maria Shriver is married to Arnold Schwarzenegger, who later became governor of California. Eunice Shriver died on August 11, 2009; she was 88 years old.