Who Constructed the Statue of Liberty
The Statue of Liberty was officially titled 'Liberty Enlightening the World'. It was built as a monument commemorating the centenary of the Declaration of Independence.
Constructed by the French sculptor Frederic Batholdi, the Statue of Liberty was designed as a colossal copper statue. Gustave Eiffel, the designer of the Eiffel Tower, was asked to build a massive iron pylon and a skeletal framework to act as the support for the sculpture. While remaining fixed to its steel frame, the structure was able to move in the wind – subsequently, wind speeds of 50 miles per hour have been recorded, and the statue has been known to sway up to three inches under pressure.
The pedestal, crafted from Scottish sandstone, was built in the USA. Once this was erected, it was time to assemble the statue proper. Parts of the statue were shipped from France. They arrived in 350 pieces and were packed into 214 crates. It took four months to assemble the statue and secure it on the pedestal.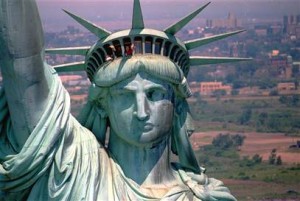 The pedestal is supported by two sets of iron girders which are connected by iron tie beams – these extend upwards into the framework of the statue creating a strong link from the ground. The Statue of Liberty was originally designed as a lighthouse and functioned as such from 1886 to 1902. It housed an electric light that could be seen several miles out to sea.
Facts about Statue Of Liberty
Observation platform – The observation platform is situated at the top of the statue. There is space here for 30 people. The platform affords a magnificent view through 25 windows in the crown.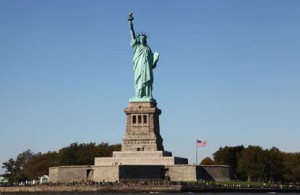 Tablet of the Law – The Tablet of the Law is situated in the left hand of the statue which represents the Goddess of liberty. It bears the Roman letters for the date 4 July 1776, American Independence Day.
Foot of the statue – Six stories above the base, this landing takes the visitor to the fourth level which is situated at the foot of the statue. From here the visitors can access the spiral staircase that leads to the viewing platform 12 stories above.
Torch – In 1986, the old torch was replaced. It is now displayed in the lobby. The current torch is illuminated by large spotlights that cast a magnificent reflection on its gold plating.