I HAD THE chance to drive an automatic version of the Up recently, and I have to say it's left me feeling even happier about my manual model.

The Up ASG uses a five-speed automated manual transmission, which should make town driving easier, but the way this one pauses and jolts is just plain frustrating.
Pulling out of junctions requires patience as the car pauses to wait for the engine and gearbox to engage. Then, when working its way up through the gears, the car coasts for a second before selecting the higher gear, causing a considerable jolt in the process.
The clutch pedal and gearchange action on my manual model are smooth and precise, and despite the ASG being slightly more economical (officially 62.8mpg vs 60.1mpg), I think I've made the right choice with my car.
The ASG gearbox is a GBP 595 option I'd recommend you leave well alone unless absolutely necessary.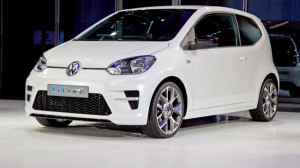 I've also had a chance to test the Up's luggage-carrying capacity. City cars often do 'small' and 'agile' very well, making urban driving a breeze, but what happens when you mix in a little retail therapy? No city car can claim a huge boot, but the Up's does its best to make shopping as stress-free as possible.
It also has a clever dividing floor. It's a simple design that involves an individual parcel shelf guided by plastic grooves on the boot's sidewalls. The shelf is sturdy enough to keep fragile stuff completely safe on the lower level, while things you need quickly are easily accessed from the top half.