LAST MONTH, AN upmarket version of Volkswagen's new Golf was beaten by the aggressively priced Audi A3 Sportback. We concluded that cheaper examples of the new Golf would likely prove more appealing.
This is our chance to put that to the test, because the 1.4-litre TSI SE model we're testing here costs GBP 19,645 – around GBP 2400 less than the 2.0-litre diesel that lost out to the Audi. It's still GBP 1000 more than a Seat Leon with a more powerful 1.4 engine, mind.
To recap, SE spec represents the middle of the Golf range. You get 16-inch alloys, a 5.8-inch colour touch-screen, air-conditioning, a leather-trimmed steering wheel with audio and trip computer controls, adaptive cruise control, electric windows all round and rain-sensing wipers.
What's more, the cabin is just as classy as in the range-topping GT models.
What's it like to drive?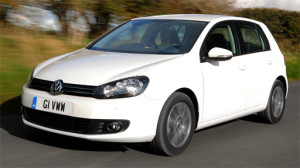 This cheaper Golf isn't without compromises, mind you. Its rear suspension is less sophisticated than the layout you'll find on the Audi A3 with the same engine, which means the car isn't as controlled over uneven surfaces. However, it still mops up bumps and potholes extremely well, and doesn't get flustered by tight twists and turns.
The rest of the driving package is extremely accomplished. The 1.4-litre engine has enough poke to stop the car from feeling slow, and in general it's smooth to rev and hushed enough at a cruise.
The steering remains nicely weighted, and the six-speed manual gearbox has a slick, precise shift action. It would be an exaggeration to say the Golf is 'rewarding' to drive, but it does feel polished.
Should you buy one?
The 1.4 Golf is full of nice touches, and clearly the product of several generations of development. Its only real problem remains the fact that rivals from Audi, Seat and (shortly) Skoda have played catch-up, and are aggressively priced enough to question every pound of the VW's price and every one of its standard features. That the Golf is an awesome proposition is not in doubt; that you need everything it now offers may be more of an issue.