The Sony Xperia S is a new smartphone produced by Sony (recently separated from Ericsson) that, aside from offering a handset optimised for high-resolution media playback, has been designed to blur the lines between a phone and a portable gaming console.
The former is delivered by a large 10.9-centimetre (4.3-inch) TFT capacitive touchscreen display, which is capable of presenting 1080p hi-def videos. The videos can be taken directly on the device through its integrated 12.1-megapixel camera, or downloaded/ uploaded to the phone from a content source.
Further, if media would benefit from being presented on a large television or monitor screen, the content can be played through an HDMI 2.0 port. The screen itself is powered by Sony's mobile BRAVIA engine, a hardware standard designed to enhance both audio and visual media playback.
The latter role as a gaming console is delivered by the Xperia S's PlayStation certification, a tag that represents the device's hardware and software has been optimised for compatibility with Sony's PlayStation Suite, an online repository of videogames that can be downloaded and played on the phone. These titles, along with the rest of the media content, can also be streamed over HDMI to a larger screen if desired.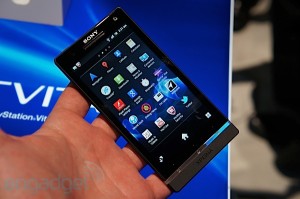 Talking of screens, the Xperia's front fascia is over 90 per cent glass panel, only separated from the casing at the bottom via a thin transparent strip. This bar acts both as the device's antenna as well as a visible area for the handset's main buttons. The screen, as with the surrounding case, is curved; at its fattest part, the Xperia S is just one centimetre (0.4 inches) thick.
Juice to run the device, which is mainly consumed by the aforementioned screen, is supplied by a 1,75omAh battery. This delivers a stated 450 hours of standby time, 25 hours' worth of music playback and 6.5 hours of video playback. Talk time varies depending on connected network, but ranges from 7.5-8.5 hours.
The Xperia S has also been designed to maximise on-phone photography, bolting on a selection of technologies to its rear-facing camera. Foremost of these is an Exmor R camera sensor, a back-illuminated, solid-state CMOS sensor tweaked to handle low-noise shots and low-light situations. This sensor works by receiving light onto a silicon substrate from behind, allowing it to be used with a level of efficiency not possible by conventional front-illuminated pixel structures.
Finally, Sony has ensured the Xperia S is compatible with a broad selection of communication platforms, the most notable being its implementation of near-field communication (NFC) on the device. NFC is a set of standards for smartphones that enables wireless radio communication with other compatible devices in close proximity. This technology is currently gaining popularity as a cashless payment method for products and services – for example, the Google Wallet app.
Sony Xperia S parts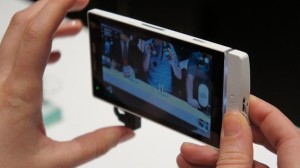 Casing – The Xperia S features a large -128 x 64X 10.6mm (5 x 2.5 x 0.4m) – plastic case, which is heavily curved to accommodate its screen and to aid grip. Segmenting the case front from the screen is a transparent strip which serves as the device's antenna.
Screen – Despite being a TFT panel, the display of the Xperia S is one of its most advanced features, delivering a 10.9cm (4.3in) capacitive touchscreen capable of outputting a resolution of 1,280 X 720 at 338 pixels-per-inch, which is the highest of any handset on the market. The screen can display oven6 million colours.
Processors – The device is powered by a combination of a Qualcomm 1.5GHz dual-core CPU and Adreno 220 GPU. Combined, these allow the Xperia S to record and play 1080p high-resolution video as well as take shots with its integrated 12.1-megapixel rear camera quickly and efficiently.
Software – The Xperia S runs off Android 2.3 Gingerbread, which is the precursor to Android's current flagship OS, Ice Cream Sandwich. The handset is PlayStation Certified, a feature that enables it to access the PlayStation Suite, a software framework that delivers downloadable games.
Connections – A plethora of connections are available on the Xperia S, including an HDMI 2.0 port for directly connecting the device to a television or monitor for video, audio and picture playback. Other notable ports include micro USB and a 3.5mm (0.12in) audio jack. The handset also packs near-field communication (NFC) technology for contactless abilities.
Xperia SmartTags
While near-field communication (NFC) has yet to be widely adopted, Sony has taken the technology to a more personalised level with its creation of SmartTags.
SmartTags are small keyring-sized tags that, when swiped with an Xperia smartphone, automatically alter its profile. The profiles can be customized on the handset, allowing users to select a variety of options such as turning on/off Wi-Fi, GPS or Bluetooth, launching news and weather apps, turning the handset's sound on/off, launching the phone's calendar, playing a certain music track and a lot more besides.
These options enable users to customise individual tags to initiate certain context-specific profiles. For example, by hanging a SmartTag in a car, a user can quickly pass the phone over it to turn on the GPS software, which would be handy if driving. In addition, if a user places a tag in their bedroom, then by sweeping the phone over it they can automatically mute their phone so they are not disturbed while sleeping.
Xperia SmartWatch
As with Sony's SmartTags, the SmartWatch is an extra piece of kit designed to complement any Xperia smartphone. It consists of a micro, square-shaped display that can be clipped to either a watch strap or an item of clothing. The display and system is loaded with a stripped-down Android operating system, which once paired via Bluetooth, can communicate with a user's handset.
This allows data and music to be streamed between the two and stored on the watch's internal memory, a feature designed to let users listen to music while exercising without having to carry their expensive smartphone.
In addition, the watch comes pre-installed with text message, Facebook and Twitter applications, which enables users to access their personal accounts discreetly and/or without having to get their phone out and unlock it. Finally, due to its Android operating system, the watch has access to the Android Market (now known as the Google Play store), allowing additional tailored applications such as weather and news programs to be downloaded and installed.