The ultimate high-performance marine toy explained.
The Cayago F7 is Seabob's flagship water and diving scooter. It allows a user to traverse marine environments at high speed and agility, be that either across the surface of the water, or diving through it down to a depth of 40 metres (131 feet).
The F7 is powered by an E-Jet, an electric jetstream system that works on the principle of water displacement. Water is drawn into the E-Jet when the F7 is in use by a powerful rotating impeller and then forced out in a jet channel under high pressure. This method of propulsion allows it to hit 22.5 kilometres (14 miles) per hour across the surface of the water and 15.9 kilometres (ten miles) per hour when diving.
Due to the high power of the F7, pilots can choose to be strapped to it via an integrated belt system, which is top-rear mounted to the unit. This enables users of the marine vehicle to dive at high speeds and perform sharp turns without any fear of losing grip on the Seabob's control handles.
Finally, the device is powered by a lithium-ion battery array, which is installed within the F7's front-centre-slotted accumulated box that, due to its modular design, is easily removed from the unit's main shell for a simple recharging process.
The World's Fastest Water Sled
Cayago F7 facts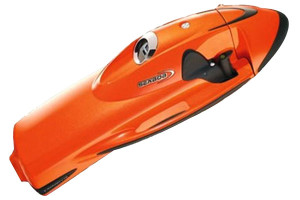 Jet – The F7's means of propulsion, the E-Jet is an electric jetstream system consisting of an electro-motorand encased running impeller within a jet channel.
Accumulator – The F7 is installed with a modular-designed accumulator box, which stores the Li-ion battery. The box is easily removed for recharging.
Shell – The F7's shell is formed from hard-integral plastic composites and features a hydrodynamic surface coating to maximize speed and agility in the water.
Cockpit – An LCD display delivers the pilot key data from the motor's electronic system, like remaining operating time.
Grip – The F7's control grips allow the pilot to both accelerate and decelerate smoothly, as well as program the unit's data menu.