London Underground History
The London Underground – more commonly known as the Tube – is a sprawling subterranean rail network that comprehensively connects the London metropolitan area. Extending from the reaches of Greater London and beyond into the centre of the bustling metropolis, the Underground is a crucial part of the region's transportation network, carrying over a billion people every year in, out and around Britain's capital.
The Tube consists of a total 270 rail stations over a network that stretches just over 400 kilometres (250 miles) in length. Of that, 45 per cent consists of underground tunnels, which run beneath the many roads, buildings and rivers above, up to a depth of 58 metres (190 feet) below the surface.
This main network is split into 11 interconnecting lines: the Bakerloo, Central, Circle, Hammersmith & City, District, Jubilee, Metropolitan, Northern, Piccadilly, Victoria and the Waterloo & City. These lines each serve a distinct area of the city and surrounding regions – although they do cross over at particularly high-traffic stops – playing host to a fleet of over 4,000 electric multiple unit (EMU) trains.
Tube trains consist of six to eight electrically powered carriages, each linked in sequence. Individual carriages are referred to as EMUs as no separate locomotive is required to pull them – as typically used on overground rail networks -with electric traction motors installed on the majority of units. Electricity for the traction motors comes courtesy of a relatively uncommon four-rail track system where two standard gauge rails act as the carriages' running rails, while a third carries the positive current at +420 volts DC and an inner fourth rail serves as the negative return at -210 volts DC. Ultimately this provides a total supply voltage of 630 volts DC.
The speed at which the EMU Underground trains travel is generally dictated by the distance between each line's stations, with the closer-together inner city stops only permitting top speeds of 48-64 kilometres (30-40 miles) per hour. On lines that stretch farther out of the city centre, with wider gaps between stations, however, speeds of 80-97 kilometres (50-60 miles) per hour are possible.
The London Underground network is accessed through dedicated stations or others located below overground stations. They are reached by escalators, lifts and stairwells from surface level, with a station's platform then accessible via automated ticket barriers. The depth of both station and platform varies, with some a few metres below street level, and others – such as the inner city Bank station -located 40-plus metres (130 feet) down.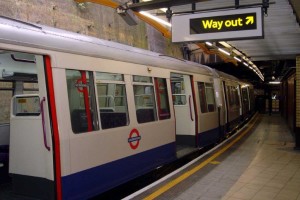 It is the depth of large sections of the London Underground that has meant a series of advanced cooling systems had to be fitted to counteract extreme heat buildup in the summer months. To give some perspective, during heat waves temperatures have been recorded in excess of 40 degrees Celsius (104 degrees Fahrenheit)! Solutions include carriage-based air conditioning, station groundwater cooling units and ventilation shafts – all of which help to counter the heat created by the environmental temperature, human bodies and mechanical operations.
Today the Underground is operated by Transport for London (TfL), which oversees almost all aspects of its maintenance, day-to-day running and general improvements. One of TfL's more recent enhancements was the introduction of the Oyster electronic ticketing system in 2003. These credit-card sized contactless devices allow commuters to bypass queues for traditional paper tickets and can also be topped up from your bank account automatically. Proving a huge success, Oyster cards now account for 80 per cent of journeys on London's public transport network.
Where did it all begin?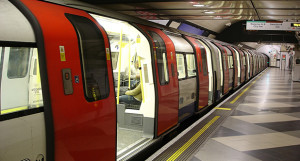 Arguably, the London Underground only came into existence due to the efforts of just one man. Charles Pearson, a solicitor in London, proposed that the city's rapidly increasing congestion above ground could be eased by expanding on the Thames Tunnel and creating a network of subterranean lines.
Despite opposition, Pearson fiercely defended the concept and, after ten years of debate and discussion from 1850 onwards, Parliament finally approved Pearson's plan and authorised the construction of a six-kilometre (3.8-mile) stretch of underground railway running between Farringdon Street and Bishop's Road (Paddington). Work began in 1860 and used the pre-existing cut-and-cover method of tunnel building where trenches were marked and dug along city streets, lined with brick walls, covered with an arch roof and then topped with a new roadway.
After three years of construction, this relatively short stretch of track was finally opened to the public on 9 January 1863, becoming the world's very first underground rail passage and the London Underground's first line: the Metropolitan.
Art and design on the Underground
For decades the London Underground was renowned for advertising its services through the medium of posters, with many famous artists – such as Edward McKnight Kauffer and Paul Nash among others – being commissioned to produce colourful canvases. The Tube still advertises in this way, commissioning posters each year to promote key improvements and events. Today, as part of the Underground's 150-year anniversary, the London Transport Museum is displaying 150 of its 3,300 posters, with many of the most famous works plus a few rarer, lesser-known examples. On display until 27 October 2013, for more information about the exhibition, visit www.ltmuseum.co.uk.
The future of the Tube
One of the biggest developments in London's transport system right now is the introduction of the Crossrail line. While not technically part of the Tube, the Crossrail will be integrated with it, adding an additional 21-kilometre (13-mile) line across the city from east to west.
The London Underground itself, however, is currently undergoing a major renovation project of its own, increasing the size and access points to stations, adding extra rolling stock to each line, extending many pre-existing lines and even introducing Wi-Fi zones. Indeed, over 100 stations throughout the Underground network are already installed with Wi-Fi hotspots, allowing those travelling on the Tube to access the internet even when deep underground.