The original Kindle Fire device was launched in November 2011 as a mini-tablet version of the Kindle eReader. A year (and considerable commercial success) later and Amazon has launched the Kindle Fire HD – a tablet which now has more in common with the likes of the iPad and co than its humble eReader ancestor.
Improvements on the 17.8-centimetre (seven-inch) screen version include a 1,280 x 800 pixel HD display, a front-facing camera and a mini HDMI out port that allows for output to a bigger display. So what enhancements have been made to the hardware inside the Kindle Fire HD to power all this new technology?
At the heart of the device are a 1.2-gigahertz, dual-core CPU, a 307-megahertz GPU and 16 gigabytes of internal memory (a 32-gigabyte option is also available) for storing hundreds of games, dozens of movies or thousands of books/music files.
This hardware is the base on which an adapted version of the Android Ice Cream Sandwich operating system is supported. It's intended as an improved gateway to Amazon's extensive catalogue -the books, videos, music and also games available for download via Amazon.com. Technically the Kindle Fire HD is an Android device, but the operating system has been so heavily modified it's like a bespoke Amazon media hub.
There are two other versions of the new Kindle Fire HD: both have a bigger 22.6-centimetre (8.8-inch) screen with a 1,920 x 1,200 pixel resolution, faster processor and graphics and a greater standard storage capacity. The high-end version also boasts 4G LTE cellular network compatibility, although commercial 4G networks are still under development in some countries, including the UK.
What is in-plane switching?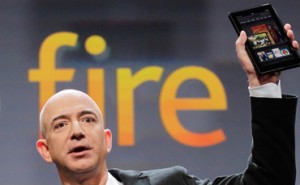 The Kindle Fire HD screen is made of toughened Gorilla Glass (which is stronger, lighter and more scratch resistant than standard glass) and is capacitive touch sensitive, just like the Kindle Fire. Both have another cool trick though: in-plane switching (IPS) panel technology.
This invention was designed for liquid crystal displays (LCDs) to solve a number of problems that included slow response times, poor viewing angles and bad colour reproduction. A screen with IPS technology doesn't distort, brighten or leave a tail when touched and dragged – clearly a vital feature in any touchscreen device.
It works by rearranging and switching the molecules in the liquid crystal layer (which is just a few micrometres thick and lies between the glass substrates) so that they're parallel to the plates. The previous TN (twisted nematic) display technology has been around in various forms since LCD was invented in the early-Seventies.
Ice Cream Sandwich
Android is the mobile operating system that began with a beta in 2007 and became a commercial OS in September 2008. It's found great success, with over 400 million active devices using it in 2012. There have been four major revisions since version 1.0 and, since Android 1.5 Cupcake in April 2009, each new iteration has been named after a sweet or dessert. The current version of Android is 4.2 (Jelly Bean), though the Kindle Fire HD uses version 4.0.x, or Ice Cream Sandwich (ICS). Like its predecessors, the software development kit it's based on is a version of the open-source Linux OS that's been adapted for modern mobile devices. In turn, Amazon has taken ICS and created an operating system bespoke to the Kindle Fire HD, which streamlines the Amazon media experience and enables Amazon to lock out any features surplus to requirements.