After months of speculation and leaked parts, Apple unveiled the iPad mini on 23 October 2012. As the name indicates, it's significantly smaller than the previous four generations of the iPad lineup, sporting a 20-centimetre (7.9-inch) display (diagonal). It's also 23 per cent thinner, with a depth of 7.2 millimeters (0.3 inches) and lighter too, weighing in at just 308 grams (10.9 ounces).
Despite being significantly smaller, Apple has still managed to pack in the same dual-core A5 processing chip used in the original iPad, iPhone 4 and fourth-generation iPod touch, 512MB of RAM and up to 64GB of flash memory.
This gives the iPad mini enough power to run Apple's latest mobile operating system: iOS 6.
In order to fit everything into such a small form factor, a few compromises on specs have been made. Unlike the third and fourth-generation iPads, the screen has a resolution of 1,024 x 768 pixels – the same as the iPad 2, which means it doesn't have enough pixels per inch to be considered a Retina display. The battery is also a lot smaller, but will still apparently provide up to ten hours of internet browsing, video or music playback.
Why go mini?
It might seem counterintuitive for Apple to produce a smaller iPad with lower specs than its predecessors, but its purpose is twofold. First, it serves as Apple's entry into the smaller tablet market, currently dominated by the likes of Google's Nexus 7 and Amazon's Kindle Fire HD. Second, it provides another option for those who find previous iPads a little unwieldy. The iPad mini's 13.5-centimetre (5.3-inch) width means it will comfortably fit in the palm of your hand, making it much easier to use on the go. It makes for a better reading experience using apps like iBooks, with the screen width much more akin to a paperback book. Also, as the 20-centimetre (7.9-inch) display shares the same resolution as the iPad 2, app developers won't have to redesign applications to work with the mini.
iPad mini facts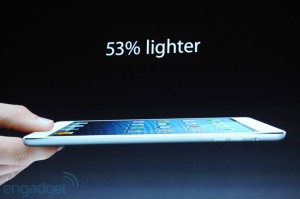 Speakers – The iPad mini has a pair of stereo speakers packed into a small space at the bottom.
FaceTime HD camera – Although not as good as the rear-facing equivalent, the iPad mini's front-facing camera is capable of shooting 720p video.
Logic board – The nerve centre of the iPad mini, the logic board contains its memory, RAM, processor and several other key components.
Build materials – Apple has built the iPad mini like many of its products out of aluminium and glass – both of these materials have good environmental credentials.
Lightning connector – Soldered onto the logic board (for easy assembly) is Apple's new Lightning connection -a smaller connector for syncing and charging.
Display – The LED-backlit display uses IPS (in-plane switching) technology so colours look vivid, even when the screen is viewed at wide angles.