In the world of tablet computing there is one clear leader and that is Apple and the company's incredibly popular iPad. The new iPad, as it has come to be known, is the tech king's third iteration of the tablet computer and it has built on the considerable success of its predecessors with some extremely advanced technology.
For anyone who doesn't know, a tablet computer is one that can be held in the hands and manipulated with taps, swipes and other multitouch gestures made by the fingers. Apple's new iPad is no different, running on the company's proprietary operating system, iOS.
The biggest feature is a new screen which packs a whopping 2,048 x 1,536 resolution into a 24.6-centimetre (9.7-inch) screen. This amounts to 1 million more pixels than the average HD TV. Apple has had to do al 1 kinds of technical wizardry to make this screen possible, including dealing with pixels in a totally new way.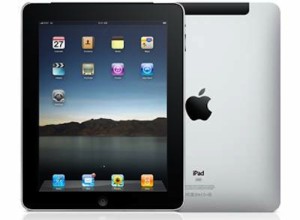 Pixels are what make up the display. Each pixel consists of three colours, and the level of light in each colour makes up the finished colour that your eye sees.
When all are lit fully you see white, for instance, and when none are lit you see black. There are four times as many pixels in the new iPad as there were in the previous one and to make sure that each one gets the correct signal to display the right colour at the right time they have had to lay them in a specific way on a different plane from the signal.
This is a breakthrough technology that no other display currently uses and you can really tell when you see the crispness of text and the richness of colours. The screen has been labelled a 'Retina' display because at the standard viewing distance of around 30 centimetres (12 inches) it is impossible for the eye to discern individual pixels.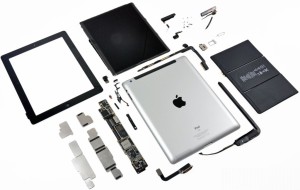 Everything looks smooth – as it does in print, which also has a very high resolution.
Other advances in the new iPad are a 70 per cent bigger battery, and by bigger we are talking capacity, not size (though the new iPad is marginally thicker than its predecessor). There is also a new camera which has some impressive lens technology coupled with a five-megapixel sensor.
The same camera is capable of shooting io8op video. In terms of pure computing power the new iPad uses a dual-core chip with integrated quad-core graphics, which has been dubbed an A5X chip. Apple builds its own custom silicon processors for handheld devices. This allows them to optimize the way the tablet works, controlling both the software and the hardware.
There is also an increase in the amount of RAM in the new iPad; it now packs 1GB and comes with three different storage options – 16GB, 32GB and 64GB – as well as coming in both Wi-Fi and 4G variations.
iPad 3 facts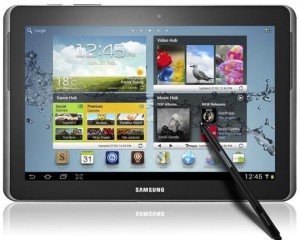 Glue – The screen is glued to the rest of the device so removing it is a case of heating the glue up and then usingsuction to prise the two elements apart.
Toshiba NAND memory – The iPad ships with eitheri6GB, 32GB or 64GB of memory. It's incredible how such a large amount of storage can be packed into so small a space.
RAM – RAM is built onto the A5X chip and has been doubled from 512MB to 1GB. This provides the random access memory needed to run apps smoothly.
Front-facing camera – Apple labels the front-facing camera as a FaceTime camera as it is primarily used with its FaceTime video chat app.
Bespoke connectors – Apple designs everything inside the iPad with the same care as it does outside, so all connectors are tailored to save space.
microSIM – For those people who buy the 4G version of the iPad they will need a contract with a microSIM which is inserted here.
Dock connector – The iPad, iPhone and iPod all use Apple's proprietary 30-pin connection plug. You need a specific charger to recharge the iPad.
Communication – This tiny chip located on the logic board handles most of the communications on the device. It's a Broadcom BCM4330 802.na/b/g/n MAC/baseband/radio with integrated Bluetooth 4.0+HS and FM transceiver.
Battery – Apple has managed to up the capacity of the new ¡Pad's battery by a whopping 70 per cent. The iPad battery is made of a 42.5-watt-hour rechargeable lithium-ion and delivers an impressive ten hours of web surfing, video watching or listening to music. Lithium is used as it is the lightest metal and its properties allow it to be recharged at any time. Additionally it doesn't suffer from crystal buildup, which can affect other forms of battery.
Read also Inside the iPad 3: Tearing Apart Apple's Latest Creation , A Look Inside the iPad 3 , Apple iPad 3 Debut: Inside the New Features
iSight camera – The camera in the new iPad has been upgraded to a five-megapixel sensor and, while this may not seem like a lot, Apple is keen to point out that lens tech is as important as megapixels. In the new iPad Apple has utilised the same five-element lens that currently resides in the iPhone 4S.
This works by filtering light five times to ensure that the colours you see on screen are the same as those you see in real life. This is done by cutting out frequencies we can't see like infrared and ultraviolet.