How does the Falkirk Wheel Work
The Falkirk Wheel was part of an GBP 84.5 million (USD 131.6 million) Millennium Link project to enable boats to travel between the Forth & Clyde Canal and the Union Canal in Falkirk, Scotland.
At the site of a former open-cast mine, this feat of engineering replaced 11 locks that went out of use in the Thirties.
The height between the two canals of 25 metres (82 feet) took several hours to negotiate through the old lock system. With the wheel it takes about 15 minutes. Slopes and lifts were considered, but a wheel was the most innovative solution. Instead of turning a full circle, this wheel has two caissons (gondolas) that are equally balanced, which travel 180 degrees between the lower basin and the aqueduct.
Each caisson on the wheel can take several boats simultaneously, side-by-side, or a single boat up to 21.3 metres (70 feet) in length and six metres (19 feet) wide. The heaviest vessel that each gondola can carry is 200,000 kilograms (440,925 pounds).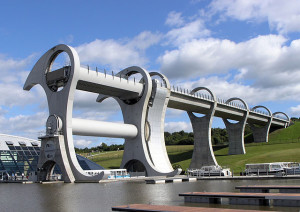 Since there is so much stress on the steel structure, it is bolted together rather than welded; in fact, 15,000 hand-tightened bolts were used in its assembly. It was opened by Queen Elizabeth II on 24 May 2002 and is intended to have a life span of 120 years.
More about Falkirk Wheel:
The Falkirk Wheel: A great day out in central Scotland