How does miCoach Speed Cell Work
From smart materials to the integration of electronic monitoring systems, today's trainers offer both enhanced performance and minimal weight.
Modern trainers, as exemplified here by the Asics Gel-Nimbus 13 and Adidas Supernova Glide 4, are fast becoming platforms that demonstrate some of the most advanced manufacturing and engineering in the shoe industry.
By introducing new materials, altering existing materials' properties and redesigning standard designs, the level of performance attainable by wearers can be increased significantly. So read on for a detailed breakdown of the technology that allows today's trainers to be comfortable, lightweight and packed with intelligent features.
miCoach Speed Cell
The miCoach Speed Cell monitoring system allows users to track acceleration, distance and pace while exercising.
The miCoach Speed Cell by Adidas is a small electronic tag that can be equipped to a variety of compatible athletic shoes. The tag is slotted directly into the shoe's base and, once activated, automatically records the user's acceleration, pace and total distance covered.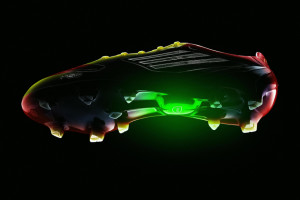 Most handily, however, the Speed Cell also automatically uploads collected data to a user's mobile phone, which can then be analysed in-app or via a personal computer.
The tracker works by partnering a CR2032 lithium battery with an integrated transmitter running off an ANT+TM protocol, ANT-FS (2.4GHz) band. This enables the Speed Cell to transmit data wirelessly to a receiver (such as a user's mobile) as well as maintain a high speed and distance accuracy of over 97 per cent regardless of whether the user is walking, jogging or running. Further, the battery is rated as capable of supplying power for up to five months, judging on a five times one-hour workout routine per week.