How does Carpet Cleaner Work
How these machines shampoo your carpets and upholstery to get them looking as good as new.
In addition to Just sucking up dust and other surface dirt from the pile in your carpets and furniture, specialised carpet and upholstery cleaning machines can also remove deeper stains and other grime, using either wet or dry techniques.
Wet cleaners employ the use of either steam or chemicals to kill germs and pick up dirt and remove stains. Hot water or steam is most effective at breaking down the grime as applying heat destroys the structure of microbes so they cannot survive. These wet variants work by first adding clean water to a dirty carpet. The water is then absorbed by the muck before being sucked back up by the machine with powerful suction technology. It's important not to get the carpet too wet, however, as depending on the solution used, this can alter the colour, and even shrink it in the case of wool-based carpets.
Dry cleaners, meanwhile, deposit a dry chemical on to the carpet, which is then absorbed by the dirt and sucked back up by the cleaner, but this type is less effective at giving a heavily soiled carpet a really deep clean. Because these cleaners apply a strictly controlled amount of moisture this can ensure the carpet remains virtually dry.
Inside the Vax Rapide Ultra 2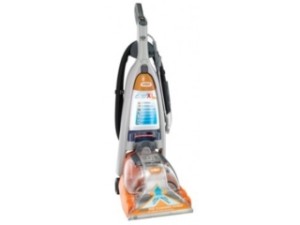 This wet carpet and upholstery cleaner uses high-powered jets to pump the water and detergent into a material to flush out even ground-in grime!
1. Clean water and solution tank – After first dry vacuuming the carpet for loose particles with a regular cleaner, the carpet cleaner comes into play. First the clean water tank must be filled with a mixture of warm water and a cleaning solution.
2. Powered water jets – When using the device, a trigger in the handle dispenses a consistent amount of detergent that is then pumped by high-powered jets from the clean water tank deep into the carpet. With the trigger activated, the device is pushed forward by the user and the cleaner will be applied to the area covered.
3. Rotating brush bar – The rapidly rotating brush bar aids cleaning as it helps to lift the carpet fibres, enabling the swift extraction of dirt from all directions while also grooming the fibres leaving them soft and bouncy.
4. Suction technology – Once detergent has been pumped into the carpet on the forward stroke, releasing the trigger and pulling the machine backwards sucks the now dirty water back into the machine via two V-shaped channels. This technology-called Dual V twin air path suction – is used in this Vax model to ensure even and consistent suction.
5. Dirty water collection tank – Soiled water extracted from the carpet is collected in this detachable reservoir for ease of emptying. See also Are Carpet Cleaners Safe and How a Carpet Cleaner Works