BMW is the past master of creating deliciously understated sports saloons: ever since 1979's Missi, we've become accustomed to slick executive sedans being packed off to the gym and , returning with muscular bulges and more powerful hearts. The 2014 M3 won't stray far from this recipe, as our exclusive images show. These pictures are no mere flights of fancy, either; they're based on two design drawings smuggled out of Munich's styling studio.
Based on the bodywork of the regular F303 Series, BMW head of design Adrian van Hooydonk's team has sprinkled some of the restrained muscle M's famous for. The car is lower and squatter, with a widened track and chunky 19in wheels to fill the wheelarches.
The front spoiler is new, the bonnet has a power dome (more for cosmetic effect than to squash in a V8, this time) and carbon fibre will be visible where used, like on the roof. All future M cars will have the M designation on the front grille as well as the boot rump.
There'll be no mistaking this for a 320d, promises van Hooydonk. 'M will always stand for extreme sportiness,' he tells us. 'The sub-brand is in a very strong place, but we want to develop it further as the pinnacle of BMW's range.
'We are making subtle changes already: all future M cars will have blue brake calipers, or gold when carbon discs are fitted. We're looking at graphite door mirrors and wheel finishes, and black chrome exhaust tips too.'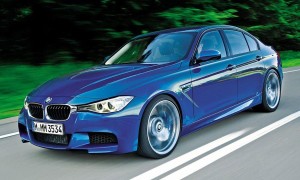 What about inside the new M3? While we can't bring you a look at the cabin yet, we have had a few hints from the design chief. 'We are working hard to make the interiors of our M cars feel more distinct. We are developing new fabrics for use in our top-end cabins, and you'll see more aluminium and blue strips inside M cars.'
The days of adapted steering wheels are over, too. The M3, and all future Ms, will have bespoke wheels with an open-spoke design like in the M6, backed by slimline paddles to run up and down the M-DCT twin-clutch gearbox.
THE FIRST M3, 1986's E30, started with a high-revving four-cylinder engine, but subsequent M3S have risen from six (E36, E46) to eight cylinders (E92). Now it's back to the format BMW's most famous for: a straight six.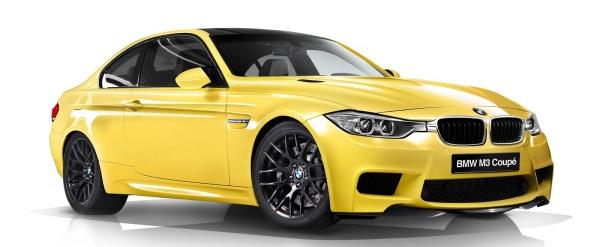 Some will lament the short life cycle of the outgoing, naturally aspirated V8, its innings stumped by the current obsession with downsizing and cleaner emissions. In its place, the relentless spread of forced induction blows into the heartland of high-performance BMWs.
The M3 will launch with a brand new engine, part of the next-gen B58 family. It's a range of modular motors, sharing a common cylinder capacity of the optimum 500cc. In three-cylinder guise, it's therefore the 1.5 you'll spot in the i8 range-extender supercar or next-gen Mini; add a cylinder and it's the future 2.0-litre four-pot executive workhorse. Sling on two more and you get the M3's new 3.0-litre six.
A pair of turbochargers will raise peak power to some 450 pferdestarke (ps), or 331kW, but its tunable nature means that power can swell easily for forthcoming special editions and facelifts; 373kW is but an ECU re-chip away for a future M3 GTS.
Result? BMW predicts that the next M3/M4 twins should shave 0.3sec off the benchmark 0-100kph time. Expect a 4.5sec effort, with top speed pegged to 250kph. To put things in perspective, the first M3 managed 6.9sec and 235kph.
MODERN M CARS pack a considerable microchip punch alongside the fireworks under the bonnet. The new F30 M is a far cry from the E30 original, whose only concession to electronics was the cigarette lighter.
Drivers can pick a manual six-speeder, according to our sources, but most are likely to pick the dual-clutch transmission (M-DCT) for its thumpingly instant gearchanges and finger-tapping race-car aura. BMW plans to add an eighth ratio in this 'box later in the car's life.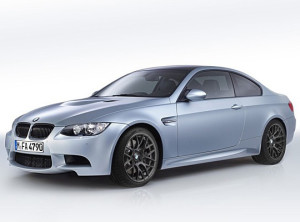 And the M diff, which has been used to such success in the M3 and M5 since the E46, will make an appearance on the next M3. It's a mechanical differential at the back axle, whose behaviour is controlled by a computer which apportions torque to the wheel with most grip. It's one of the key tricks responsible for the M3's duality of nature: a smooth exec cruiser by day, a rubber-smearing oversteer king if you have the urge to show off at a track day.
EXPECT to SEE this M3 appear on Mastermind in future: its confection of exotic materials drawn from the extremes of the periodic table will surely be used to test chemists' knowledge. All car manufacturers are investing in lightweight materials, and few more so than BMW. It's only months away from launching the first mainstream, high-volume family car built from carbon fibre-reinforced plastic (CFRP) – the is electric car.
Munich plans to transfer its learnings from that EV project across the rest of the range. The new M3 is an ideal place to start. The roof of the fast Three will be baked from CFRP, and BMW is developing the first ceramic brakes seen on an M3. These should answer criticisms of previous M anchors, but will likely remain a cost option.
It doesn't end with posh plastic. The doors, bootlid and bonnet of the M3 will be skinned in aluminium and the classy five-spoke alloys will be forged items to remove heft. As well as lowering the overall kerbweight, these items will lower the centre of gravity, helping the M3 feel more hunkered down in corners.
End result? M division's internal target is to push the kerbweight of the next M3 under the magical 1500 kilo mark. As a reference point, the current 335i auto saloon weighs 1 595kg.
Removing weight creates a virtuous circle: performance, handling, braking, economy – just about everything, really – all improve… It's a big ask, though. Merc's rival C63 AMG tips in at 1 655kg.