BMW 328i vs Buick Regal GS
BMW 328i review
BMW's Ultimate Driving Machine slogan dates back to 1975. After testing the 3 Series for more than 11,000 miles, we found that the "ultimate" part largely depends on your driving conditions. Under fair skies on smooth roads, the car lived up to its reputation. "Crisp handling, tight steering, and supple suspension; brakes are marvelous and wheel grip is substantial," one PM staffer wrote. "Rides nice, yet has an aggressive side!"
After a round-trip with friends from New York to Maine, another driver lauded the plush interior and comfortable seats (front and rear), as well as the user-friendly climate-control, navigation, and infotainment systems.
But pitted asphalt in metro New York caused wheel-shaking sidewall bubbles in two tires (which were replaced), and an early snow caused the car, equipped with its factory-spec summer performance tires, to handle like a greased pig. The experience was a good reminder that every vehicle should be outfitted with snow tires when the seasons turn—much less a rear-wheel-drive sports car in the Northeast. These matters aside, though, our Bavarian buggy proved to be a hit with PM staff and has left us all just a little spoiled.
• The onboard local Google search is fast and efficient. A test-driver looking for a nearby bagel shop not only located one in a snap, but was also led directly there by the nav system.
• The Harman Kardon stereo kicks hard! We used the seven-level equalizer to tune the system like a studio soundboard.
FUEL ECONOMY – Average: 28.55 mpg, Best: 34.91 mpg, Worst: 23.49 mpg
BASE PRICE – $35,795 to $49,445
Buick Regal GS review
Regal GS drivers will inevitably be answering the same question that dogged us whenever we had a passenger: "Is this really a Buick?" It's a fair query, as the spirited GS is so unlike the cushy Buicks we're used to. Not only is it quick—thanks to a turbo 270-hp engine—but it's also an agile and thrilling piece to pilot on curvy pavement. The chassis is polished and composed with just enough compliance; you feel the road, but you aren't punished by it.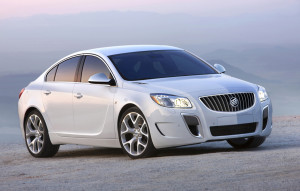 There were some minor issues: The dead pedal is shallow and puts your left leg in an uncomfortable position, and the infotainment system doesn't download a smartphone's contact list. We averaged 25.64 mpg over 6000 miles, almost hitting the 27 mpg highway number from the window sticker. And knowing that a good time was almost certain to follow, we always felt a twinge of excitement whenever we slid behind the wheel. If the GS is a harbinger of what's to come from Buick, we'll be watching.
• Massive and short-sidewall tires seem like a bad recipe but we didn't have any problems.
• Taller than 5 feet 9? Long trips feel even longer in the back seat.
Buick Regal GS data:
BASE PRICE – $35,720 to $38,640
FUEL ECONOMY – Average: 25.64 mpg, Best: 27.95 mpg, Worst: 18.3 mpg