THE BMW 1 Series has always been unique in the small family car class, because it's the only one with rear-wheel drive. Come March 2013, it'll also be one of the few to offer the option of four-wheel drive.
The aim of the 120d xDrive is to provide customers with all that's good about the regular 1 Series, while also giving them a fighting chance of being able to get around in the snow.
We've tried it in the white stuff and it performs well. The four-wheel-drive system usually sends 60% of the torque to the rear wheels and 40% to the fronts, but can send up to 100% to either aX1e when it detects wheelspin. The system reacts quickly and juggles the power effectively to give you useful extra traction.
That aside, the xDrive feels much like any other 1 Series. The suspension remains compliant and well controlled, so the ride is impressively smooth at all times.
Body roll is also fairly well contained, and the steering is responsive, if rather light. The 1 Series isn't the most entertaining hatchback to drive, but there's still fun to be had.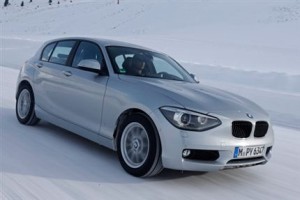 The engine helps. It's the same 181bhp 2.0-litre diesel that's impressed in countless other BMWs, and it's just as strong here. The 0-62mph dash is taken care of in 7.2 seconds, and the engine's willingness from low revs makes it effortlessly flexible.
There's plenty to like inside the car, too. The plush materials and solid assembly create a high-quality feel, and there's room for four adults, and a decent boot.
True, the xDrive costs GBP 1500 more to buy than the regular 120d, and it'll cost you a little more to run; the Government fuel economy figure is 60.1mpg, 2.7mpg less than the rear-driver's 62.8mpg, and C02 emissions of 123g/km mean it sits one company car tax band higher.
However, that's not a massive penalty, and if you've ever been marooned in the winter, you may well consider it to be one worth paying.