Today's compact crossover segment is crowded with strong contenders, including the all-new Ford Escape, which took the top spot in our most recent compact crossover comparison ("Stroller Battle," September 2012.
The 2013 Toyota RAV4 didn't make it in time to take part, but we'll give the RAV an opportunity to duke it out soon enough.) This embarrassment of riches is a far cry from the late 1990s to early 2000s, when the segment essentially was a two-player show starring the RAV4 and the Honda CR-V.
Despite the explosion of newcomers, the CR-V, which continues to lead the way in the sales race, remains the RAV4's main target. Honda reached the top by making relatively conservative improvements to the CR-V, and Toyota appears to be following the same strategy with the RAV4.
Under the hood is Toyota's ubiquitous 2.5-liter four-cylinder carried over from the third-gen RAV4, tuned to produce 176 hp and 172 Ib-ft of torque. But Toyota has finally ditched the antiquated four-speed automatic for a new six-speed, and shifts are dramatically smoother, with none of the extreme jumps in engine rpm exhibited by the four-speed.
The new RAV isn't noticeably peppier off the line, but ifs quick enough to run neck and neck with much of the competition. Our front-drive tester ran from 0 to 60 mph in 8.4 seconds, tying the Honda and beating the Escape (equipped with the 173-hp, 1.6-liter EcoBoost turbo-four) by 0.5 second. The RAV4's quarter-mile time of 16.4 seconds is one-tenth behind the CR-V, but it finishes with an 85.8-mph trap speed, 0.2 second faster than the Honda. The Ford lagged behind both cars at 16.7 seconds at 82.4 mph.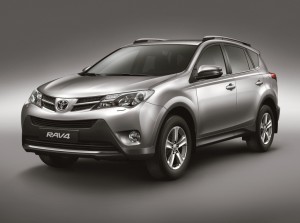 Still, prepare to eat dust if you try to outrun someone who spent extra cash on an Escape with the 2.0-liter EcoBoost, which churns out 240 hp and needed just 6.8 seconds to go from 0 to 60 mph during our most recent test (and that was a heavier AWD variant). Unfortunately, the RAV4's trump card, a potent 268-hp, 3.5-liter V-6 that propelled the last-gen model to 60 mph in a class-leading 6.3 seconds, won't be offered for the 2013 model year. Toyota gave two reasons for this. First, sales of the V-6 have dropped to 15 percent from a peak of 30 percent. Second, if Honda can sell almost 300,000 CR-Vs with just one engine choice, Toyota can do the same with the RAV4. Spealdng of which, Toyota has set an annual sales goal of at least 200,000 units for 2013, a strong growth target given that 2012 RAV4 sales were just under 172K.
The RAV4 should also be a better fuel-sipper, thanks to the six-speed's tall overdrive gear, revised software, a new torque converter, and an ECO drive mode that smoothens out throttle inputs and constantly pushes the gearbox to hunt for higher gears. Official EPA numbers aren't out yet, but Toyota expects front-drive models to return 31 mpg on the highway, which is on par for the segment. A Sport mode sharpens throttle response and downshifts, and stiffens steering feel by reducing electric power assist by 20 percent.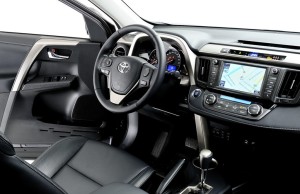 In addition to the Sport mode, revised suspension bits (beefier anti-roll bars, revised spring and damping rates, and tweaked struts and bushings) give the new RAV4 a more sporty and composed ride over that of its predecessor, though not quite as sharp as the Mazda CX-5's, which we've praised for its Miata-like reflexes.
Despite its tweaked chassis, the RAV4 fell behind the pack around our figure-eight course, needing 29 seconds to complete a lap. The Honda, Ford, and Mazda posted times of 28.8,28, and 28.4 seconds, respectively. We're curious about how an AWD RAV4 would perform, since it features Toyota's new Dynamic Torque Control. It defaults to a 90/10 front/rear torque split in Sport mode to improve handUng, but can distribute up to 50 percent to the back.
According to Toyota, the 2013 RAV4's sheet-metal was inspired by triathletes. Whether you can imagine how that could be, it's hard to overlook the sharper lines and bold face, which one staffer described as looking like an Angry Bird. Out back, the quirky side-hinged rear door makes way for a conventional lift tailgate, and the exterior-mounted spare tire has migrated to a new home under the cargo area.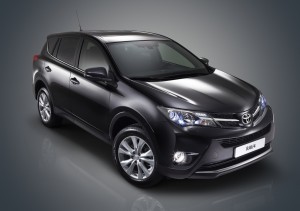 Toyota made extensive revisions inside. Our XLE tester was a showcase of upscale touches including automatic climate control, switch-gear with chrome accents, and a dashboard covered in soft-touch material with French stitching. The new RAV is quieter, too, thanks to a new acoustic laminated windshield and additional sound-deadening material. The optional third-row seat has been discontinued for 2013, but Toyota says the RAV4 provides a class-leading 73.4 cubic feet of cargo space when the rear seats are folded down.
Toyota has simplified the RAV4 lineup with three trim levels: LE, XLE, and Limited. Standard on all RAV4s is Toyota's first one-touch three-flash-to-pass system, streaming Bluetooth audio, class-leading eight airbags, 6.1-inch touch-screen infotainment display, and backup camera. Opting for the Limited model adds 18-inch rims (17s for the LE and XLE), Softex seating surfaces, a power liftgate, and optional Rear Cross Traffic Alert. Navigation is optional on XLE and Limited models. In all, it appears Toyota has one-upped the CR-V in many areas. Let's see if the 2013 RAV4 has what it takes to beat the Honda in the sales battle.