2013 Toyota Corolla Furia Concept
Officially, the Toyota Corolla Furia concept is just a design study, but it's really a showy preview of the next Corolla. The production car was slated to bow at the New York auto show in April and hit showrooms this fall, but we hear sales of the current car are so strong that the debut may be pushed back so as not to interfere.
After all, development costs for the current Corolla were likely paid off years ago, so there's no reason to kill the cash cow as long as sales are strong.
Whenever the Corolla does debut, we're told it won't look all that much different from the Furia concept. A source says the concept's sheetmetal is as much as 85 percent production-correct, so figure Toyota will tone down some of the flourishes in the nose and tail and run with it.
More than that, though, another source tells us that the Furia is so popular inside Toyota that the brand is considering a Furia special-edition package for the production car that would look very similar to the concept. A five-door hatchback, meant to replace the discontinued Matrix, is expected to bow a year after the sedan.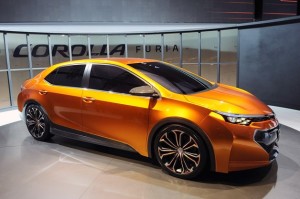 The interior is less of a known quantity. A peek inside the concept revealed the current car's interior, so that's no help. We hear the new interior will adopt the latest Toyota design trends, so look to the Camry and Avalon for inspiration. In a bid to update the car's content, Toyota's Entune infotainment system will be an option.
Big changes are planned out of sight as well. If the concept looks big to you, you're right. It's longer and wider and, more significant, it rides on a nearly 4-inch longer wheelbase. That wheelbase stretch is coming to the production model and should offer a significant improvement in rear-seat legroom and trunk space. At roughly 106 inches, the wheelbase would be an inch longer than its fiercest rival, the Honda Civic. The suspension and power steering would need to be retuned for the larger car and our sources say it'll focus on better responsiveness and feedback.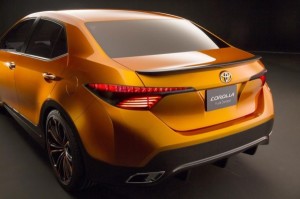 Under the hood, we're told, it's the same but different. The current car's 1.8-liter four-cylinder engine is expected to carry over with a slight bump in fuel economy as the base engine. Another version of the 1.8-liter engine will be the premium option, which has been worked over to improve performance and efficiency.
We're told power won't likely increase much, but fuel economy should jump substantially from the back of the segment to the top. It's a safe bet that at least one, if not all, Corolla models will hit the magic 40-mpg mark with the new engine. Helping achieve that, we hear, are a new six-speed manual and CVT automatic. A rumored hybrid model has apparently been called off for failing to produce big fuel economy gains over the gas-only models. By Mike Connor
---