RENAULT HAS FINALLY confirmed full details of the new Renault sport Clio 200 ahead of its launch later this year. Just in time, too – we're driving it in the next issue!
We've already told you that the new Clio switches to turbocharging, with a 1.6-litre four-cylinder engine in place of the previous car's naturally aspirated 2-litre unit. It will also only be available with a six-speed double-clutch gearbox. And yet, despite the extra tech, stretched dimensions and five-door bodyshell (no three-door will be offered) it's 36kg lighter than the previous car, tipping the scales at 1204kg. The 0-62mph time of 6.7sec is 0.2sec faster than before, and the top speed of 143mph is 2mph faster.
The new engine is set to transform the driving experience compared to the outgoing 200's rev-happy motor. Peak power remains the same -200PS converting into 197 British-spec bhp – but there's much more torque lower down the rev range. The new car's 177lb ft is available from 1750 to 5500rpm, in contrast to the old 200's peaky 159lb ft at 5400rpm.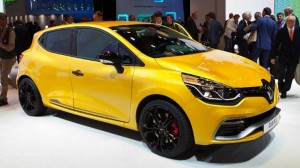 There's more good news under the skin with a comprehensive mechanical makeover. The Renault sport gets unique calibration for its electric power steering and a proper suspension uprating – we're told the rear anti-roll bar is 60 per cent stiffer than that of the standard Clio. The dampers incorporate hydraulic compression stops -common in rallying, but said to be a production-car first – while there are also bigger brakes, including 320mm-diameter discs up front.
The car also gets what's described as an electronic 'RS Diff', which attempts to replicate a mechanical LSD by using the brakes to redistribute torque across the front axle. As before, a firmer 'Cup' chassis will be offered, making the Clio 3mm lower and 15 per cent stiffer, and also coming with a quicker steering rack and 18in Dunlop Sport Maxx tyres.
Renault Clio RS 200: full details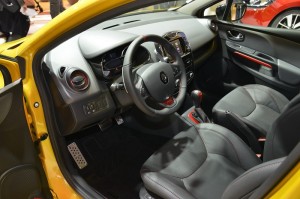 There are active driving modes too – Normal, Sport and Race – the latter keeping the gearbox in manual mode and killing all traction and stability control.
A seemingly more gimmicky feature is the 'R-Sound app', which electronically replicates the noise of various other cars – including the Alpine A110 and Nissan GT-R – using the in-car entertainment system.
The only detail missing is pricing, but Renault insiders hint at the GBP 19,000 mark when sales begin in April.
We has also learned that Renault plans to offer a warm Clio GT later in the year, combining a Renaultsport-tuned chassis with a 1.2-litre turbo petrol engine and the same twin-clutch 'box.