BlackBerry Z10 Inside And Parts
The Z10 is BlackBerry's new flagship smartphone, featuring a raft of improved hardware and a new operating system, BlackBerry 10.
In terms of hardware, the Z10 is powered by a 1.5-gigahertz Qualcomm MSM8960 dual-core processor paired with two gigabytes of mobile DDR2 SDRAM, an internal bank of 16 gigabytes of flash memory and a large 3.8-volt lithium-ion battery. This core feature set is bolstered by the inclusion of an eight-megapixel rear-facing camera, a two-megapixel forward-facing camera and a 10.7-centimetre (4.2-inch), 1,280 x 768-pixel touchscreen – the latter coated with a layer of hardened, scratch-resistant glass.
The BlackBerry 10 OS is a proprietary variant based on QNX – a Unix-like embedded operating system – which allows for the integration of features such as multitouch gestures, advanced multitasking operations, screen-shared video calls and voice control of the device. Indeed, the 10 OS is heavily optimised for multitouch gestures and is based around a piece of software called BlackBerry Hub, a content and connectivity aggregator that displays a lot of key data in list form.
In terms of connectivity, the Z10 is installed with an NFC (near-field communication) antenna built in to the backplate and has support for both Wi-Fi and Bluetooth 4.0 connectivity. The Z10 is compatible – dependent on model – with network connections up to 4G LTE.
Inside Z10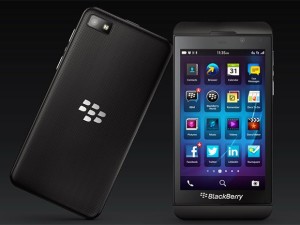 Screen – The Z10's 10.7cm (4.2in), 356 ppi touchscreen delivers a 15:9 aspect ratio. The digitizer is applied directly to the glass and fused to the LCD.
Back camera – The Z10's rear-facing, 8MP auto-focus camera has a five-element f/2.2 lens, dedicated image signal processor and 64MB frame buffer.
Top assembly – The phone's ambient light sensor, headphone jack, power switch and earpiece speaker housing are built in to a single assembly at the top of the device.
Battery – A 3.8V, 1,800mAh removable lithium-ion battery powers the Z10 and has enough juice for over ten hours of talk time per charge.
HDMI port – The Z10 comes with two main ports: a micro HDMI for routing media to an HDTV and a micro USB 2.0 connection for charging and data transfer.
Front camera – A 2MP, fixed-focus camera is also included. This offers image and video stabilization, a 3x digital zoom and 720p video recording.
Motherboard – The mainboard holds a bounty of chips and integrated circuits including 16GB of NAND flash memory, accelerometer and dual-core Snapdragon CPU.