Tata Indica Vista D90 Review
The 1.3-litre Multijet diesel engine makes 89 horsepower but it's not as nice as it's made out to be. There's quite a bit of throttle lag and you need to get the engine spinning to around 2500rpm before you can feel the extra power. It's fine in the city at normal speeds, but it's when you want to shoot into gaps, that you'll realize just how much throttle lag there is. Overall, the motor is refined but it does sound a tad stressed when pushed towards its limit.
The ride quality on the Vista is surprisingly good, especially at low speeds. Its suspension soaks up most irregularities with ease and the larger bumps are also dealt with very well. In a straight line, the stability is impressive. Over rough roads though, the car does get unsettled a bit, but it's not too bad.
The stiffer suspension (as compared to the 75bhp Vista) and the well-weighted steering means the car feels safe in corners. The handling is not very sporty though.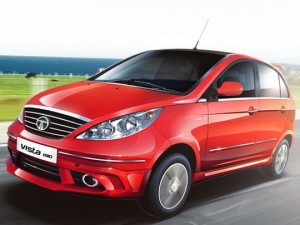 The cabin plastics are easier on the eyes and feel better built than the previous car. The new touch touchscreen multi-function audio system also doubles up as a sat-nav. The instrument cluster, borrowed from the Manza, is no longer in the centre and moves behind the steering wheel. The dials look quite good but are handicapped by their small size that makes them a little difficult to read. The switches for the power window and indicator stalks lack quality in their feel.
Space wise, the Vista clearly trumps the Hyundai i20 with its broad and roomy rear seats. Seating three abreast in the rear is fairly easy, but this room has come at the cost of boot space. At 232-litres, it is considerably smaller than that of the i20. The front seat also gets a lever to adjust lumbar support. The ergonomics are average though. The pedals are set a tad too high and space between the clutch and the centre console is tight and makes resting your foot there difficult.
For the price, the Vista has a decent amount of equipment which includes a central touchscreen-based multimedia interface which also acts as a reversing camera (available as an option), GPS navigation unit and an audio player that features a CD player, Aux input, SD cards and a USB drive. Apart from this, you also get climate control and steering-mounted audio controls. A multi-information display that calculates your fuel efficiency is present as well.