THE NEW SEAT Leon needs to do something special to get attention, with the closely related Audi A3, VW Golf and Skoda Octavia arriving on the scene at about the same time. This 1.2 TSI entry-level petrol model does just that, and its great blend of driving verve and value makes it our pick of the range.
Its 104bhp turbocharged engine is a big part of the equation; it's remarkably flexible and keen to rev, which really suits the Leon's character. Despite being the cheapest engine in the range it's also one of the most refined. It's smooth and quiet, even when revved hard, and is certainly a lot easier on the ear than any of the Leon's diesel engines.
Models with 148bhp or more get a fully independent rear suspension system, while lower-powered cars such as this have a more basic set-up. We've driven Leons with various wheel sizes and with all of the available suspension systems, and found that it's the similarities – rather than the differences – that are most apparent.
On all versions the ride is firm, but not unacceptably so. The pay-off is that the car stays level through corners and recovers very quickly from one bump to the next.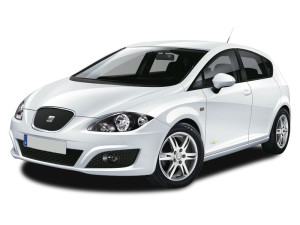 The 1.2 TSI is the lightest model in a range that's up to 90kg lighter than the previous version. This, and responsive steering, makes it nimble and eager to change direction. In all, the Leon is more fun to drive than most other family hatchbacks.
Although the Leon's cabin isn't as classy as its Audi and VW counterparts, it's smart by any other standards and there's space for four adults. The boot is a decent size and shape, too.
At GBP 15,670 the 1.2 TS IS costs GBP 2280 less than the equivalent Golf (with the same engine), while standard equipment includes seven airbags, air-conditioning, Bluetooth and a colour touchscreen. You can spend a lot more on a Leon, but when the basic version is anything but, we see no good reason to.