An unmanned aerial vehicle (UAV) is a military aircraft that is piloted either autonomously or by remote control, designed to observe or interfere with enemy targets from the air.
With no crew on board, it is capable of remaining operational for a large period of time and provide continuous reconnaissance from remote areas that would otherwise be inaccessible.
Most recon drones such as the American MQ-1 Predator, which has been a pioneer for unmanned aircraft development since its first flight in 1994, employ a propeller driven by a piston engine to fly at about 130km/h (80mph) for up to 24 hours.
They carry visible and infrared imaging equipment in addition to radar and, on occasion, air-to-ground missiles.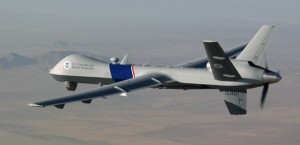 A satellite relays ground-based commands to the aircraft and also transmits sensor outputs from the aircraft back to ground. Larger UAVs, such as the US RQ-4 Global Hawk, are powered by jets and can typically stay in flight for around 36 hours.
Predator vs Global Hawk table
The Predator might be in wider use, but the Global Hawk dwarfs its brother in terms of size and capability.
| | |
| --- | --- |
| Predator | Global Hawk |
| Length: 8m (26ft) | Length: 13.5m (44ft) |
| Wingspan: 12.5m (41ft) | Wingspan: 35.4m (116ft) |
| Height: 2.1m (7ft) | Height: 4.6m (15ft) |
| Endurance: 24 hours | Endurance: 36 hours |
| Cruise speed: 130km/h (80mph) | Cruise speed: 649km/h (403mph) |
| Altitude: 7,620m (25,000ft) | Altitude: 20,000m (65,600ft) |
---