New Class Superferry Boat Travel
Ferries traditionally were seen as one of the most basic forms of marine transport, carrying limited numbers of people, vehicles and cargo over short distances.
Those days, however, are currently being blown away with a new breed of superferry. These machines not only boast some of the world's most advanced marine engineering and tech, but also blur the line between a ferry and a full-blown cruise liner, offering customers a travel speed and facilities usually exclusive to planes, trains and automobiles.
This new class of superferry is probably best showcased with Stena Line's Hollandica and P&O Ferries' Spirit of France vessels, with each delivering a jaw-dropping level of technical wizardry. The Hollandica, which runs from Harwich, UK, to the Hook of Holland is one of the largest superferries on the planet, measuring in at a colossal 240 metres (787 feet) in length.
Further, the vessel can not only comfortably carry 1,200 passengers per transit, but also host 230 cars and over 300 freight vehicles in its hold. That's all from a vessel that weighs 63,600 tons and that, even when fully loaded, can cruise at over 21 knots (40 kilometres/ 25 miles per hour). This speed is granted by two 7,200-kilowatt (9,655-horsepower) MAN 6L48/60CR and two 9,600-kilowatt (12,874-horsepower) MAN 8L48/60CR diesel engines.
There are over 538 cabins fitted onto the ship, with a total of 1,376 beds. Each cabin comes with an en-suite bathroom and full-sized beds rather than bunks. In addition, the ferry comes equipped with multiple restaurants, a full-scale cinema, several bars, a lounge, media room and an internet cafe. Finally, each cabin and lounge has its own satellite TV installed.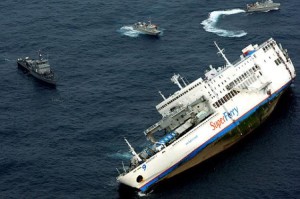 Not to be outdone, however, is P&O's Spirit of France. Measuring in at 213 metres (699 feet) in length, weighing over 49,000 tons and delivering a top speed of 22 knots (41 kilometres/25.5 miles per hour) – thanks to four vast MAN 7L 48/60 diesel engines – this superferry can cross the English Channel from Dover to Calais in under two and a half hours. Not only that, but as a result of its advanced hydrodynamic hull it can conserve large quantities of fuel when compared to legacy models.
(Read SuperFerry 9 and 88 missing after Philippine passenger ferry sinks)
While the Spirit may lose out in size and weight to the Hollandica, it makes up for it in its ability to transport 2,000 passengers, as well as 160 articulated lorries or up to 1,059 cars on any one transit, securing vehicles in its multi-tiered hold. Passengers are spoilt for choice with its wide array of eateries, lounges, entertainment suites, bars and observation galleries.