Discover how these versatile vessels combine a rigid frame with inflatable support to ensure they almost never sink.
The rigid-hulled inflatable boat (RHIB), or rigid inflatable boat (RIB) for short, was first built in the Sixties, and has since proved highly versatile. The boats are characterised by their inflatable sections that sit atop a rigid hull, making them sturdy but also manoeuvrable. They are useful patrol and rescue boats, and ideal for ferrying passengers between vessels or to and from shore.
Most RIBs are between four and nine metres (13 and 28 feet) in length, and are driven by either one or more outboard motors or a single inboard motor. The power of these boats can range from a tame four kilowatts (five horsepower) up to 220 kilowatts (295 horsepower). The hulls of RIBs are designed to hydroplane so that they glide across water, even in rough conditions.
The hulls are commonly made from steel, aluminium, wood or a combination of wood and glass-reinforced plastic (GRP, or fibreglass), while Kevlar is occasionally used for extra strength.
The inflatable collar of a RIB consists of separate sections so that, in the event of a puncture, the vessel can still stay afloat. The tough material used is commonly Hypalon or PVC (polyvinyl chloride).
There are also larger RIBs that have hard tops (cabins) for extra protection from the elements for both the crew and equipment.
RIB Boat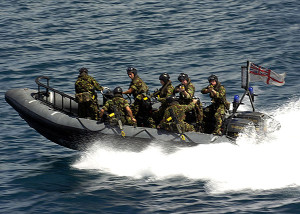 Design – The shallow depth to which the boats sink, coupled with their inflatable, lightweight top, make RIBs highly manoeuvrable so they lend themselves to rescue and safety scenarios.
Tough – The combination of a rigid hull and inflatable collar makes RIBs incredibly unlikely to sink, even after a collision with another boat.
Power – Most RIBs are powered either by an outboard motor or an inboard motor capable of up to 220kW (295hp).
Speed – A fairly regular six-seater RIB will usually be capable of a speed of about 30 knots (56km/h; 35mph). High-performance RIBs, however, can attain speeds of up to 70 knots (130km/h; 80mph).
Shape – The deeper the V-shape of the hull, the more easily the RIB will cut through waves (making for a more comfortable ride) at the cost of more power.