The word Brio comes from the Italian for 'verve', 'vigour', 'cheerfulness' and 'energy'. It's an apt moniker considering that Honda's designers were aiming for lively, funky styling that would appeal to young, first-time buyers. From the front end it looks pleasing – the family face links well enough to big brother Jazz.
The profile, with dual rising crease lines and a wedgy glasshouse, appears well-proportioned but ends rather too abruptly at the rear. I also feel the wheelarches could do with larger wheels than the standard 14-inch steel items. Swing around to the back and the styling is a harder sell. The triangular theme reminds me of a dome tent. The tailgate is all glass and needs a good slam to get it closed – a terrifying task the first couple of times. Like its Chevy Spark and Kia Picanto rivals, the Brio packs four passenger doors, though the rear door aperture is quite narrow.
Interior
We're yet to be truly impressed by the interiors of the budget Indian-made cars that have entered the local market. The consensus is that while not badly built, the materials used are of poor quality, designs lack cohesion and trim colouration is patchy.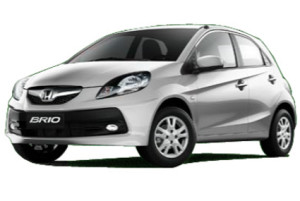 However, the Brio feels the best put together of a group that includes the Suzuki Alto, Ford Figo and Toyota Etios. Facia panel gaps are tight and the design of the cabin is well thought out. As for toys, there isn't much to play with save for a simple radio/music player with additional steering wheel controls, a USB port and a three-stage trip computer that shows fuel consumption in kilometres per litre. Don't be fooled though, the radio unit is more sophisticated than it looks, offering radio pre-sets and full iPod/ MP3 player control via a clickable dial.
Biggest gripe is the material colour choice – a nicotine stain beige for the seats and interior lining. Simple black or grey fabric seats would have suited our market better. The facia itself is an interesting two-tone affair: the architecture's mostly black – as is the steering wheel – but then a weird maroon/brown colour joins the party for the radio and hazard button surround. As you'd expect, it's all hard to the touch, though I did approve of the thick-rimmed steering wheel that is rare delight in this segment.
Rear legroom for a car this size is vast, even with the front seats in their most rearward position. With so much of the available space apportioned to occupants, you'd think Honda forgot that people tend to carry things. Boot capacity is miniscule, as is boot access. Loading up after any decent shop is like trying to post a parcel through a letterbox slot. With the Brio's boot capacity at 161-litres, smart shopping and packing skills will be required if you intend to keep the seats up.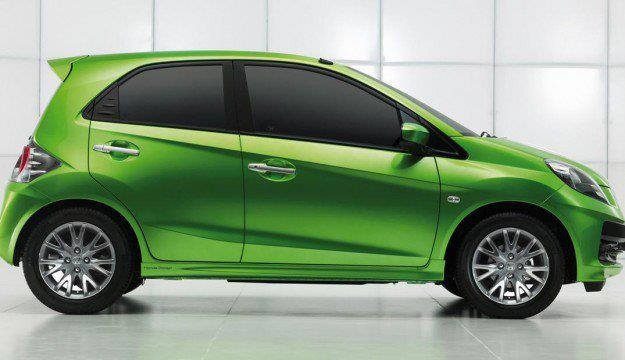 Performance
The Brio's enthusiastic 1.2-litre four-pot delivers peak power and torque outputs of 60kW and 109Nm respectively. The whole car weighs just over 900 kilograms so you would expect it to be quite zippy. Around town it's a wasp, darting into gaps in traffic, happy to fly along at city speeds. Out on the open road though, the Brio lacks the torque for blitzing overtakes but will run with the pack without too much of a problem.
What takes getting used to is the Brio's involuntary rev burst between gear changes – an unburnt fuel emissions-controlling quirk that is most noticeable when changing from first into second gear. It's a bit annoying if you're trying to get a move on because it makes you look like a clod. The irritation can be skirted by releasing the throttle and waiting for a second before engaging the clutch and slotting the next gear. Or you can just take it to the red line and then shift when the revs have nowhere further to climb to. Other than that odd issue and the fact that there's more mechanical vibration at speed than we'd expect, the Brio performs admirably. The gearbox has a swift, short throw through the five speeds and if you drive respectfully it will return 6.4l/100km. We found that consumption was actually better in town than it was on the freeway as the Brio revs at over 3700rpm once it gets to 120kph.
Handling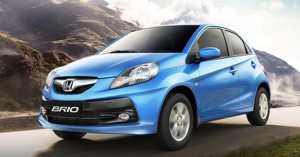 The Brio's diminutive size works in its favour in the handling department – it feels nimble and agile, allowing you to really manhandle it while still feeling completely in control. Its 920kg weight does mean the Cape Peninsula's notoriously strong south-easter winds make it feel wobbly once you're up to speed though. Cornering reasonably flat and comfortably hopping over speed bumps, ride comfort is one of the car's strongest features. The steering wheel makes light work of parking lots and the cut and thrust of city driving. Steering feel isn't a priority for a city car as the emphasis is more on lightness and manoeuvrability. It turns on a dime as a complete rotation is managed in a mere 9.6M.
Verdict
While impressive, the Brio isn't quite the bargain-priced baby Jazz we were hoping for. Granted those are high standards to live up to at this price point, but don't expect it to feel as superbly engineered, while its interior, would also benefit greatly from a colour palette update. That said, the bottom line is that the Brio represents really good value in its class that will no doubt prove to be a reliable, easy-to-maintain, safe first car or city runabout for most students or commuters.